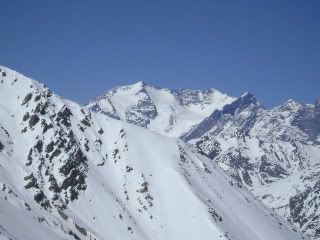 That would be Portillo. It´s perhaps the most aesthetic of South America´s ski areas, and we went there with Steven Hatcher, Andres and telarktipster Reformed Skier.
Steven Hatcher turned out to be my long lost brother, or something like that. Lived in Elko, skied the West Desert ranges, Utah grad, telemarker, Pete Krebs fan, lover of literature, non-snob wine fan ... I could go on and on. Anyway, he and his wife Wendy and their son Hank (Hank, that is, when he is not being the uber-bad-chile Felipe) let us make ourselves at home in their home in Santiago. Steven plied me with what must have been my body weight in red wine, including a 1998 Gaia which was totally spectacular, and took me skiing several days.
Portillo was not the greatest snow day, but it was a great day nonetheless. We left their home at 7:30 and made it there by 9:30. The last 5 miles is on a crazy switchbacked road lined with trucks waiting to make it across the border into Argentina, which is just a mile from the ski area.
Portillo is a huge yellow lodge, a big frozen lake and a series of avalanche chutes served by lifts made specially by Poma. They are called, I think, Va et ventes, or come and go. Some people also call them slingshots. They are four, five or six (depending on the lift) poma discs attached to a pole attached to a wire. Each lift has two, which run at about a 20 degree angle from each other. One goes up while the other comes down and vice versa. The key design of the lifts means there are no towers and no top tower, just the wire anchored into the rock cliffs at the end of the lift. Skiers load together and are hurled up the mountain at frightening speeds (no, the snow is not level, yes, you do get flung into the air at times) and then the lift stops at the top. Getting off is, as Steven put it, synchronized falling. You feel good when you realize you made it up and off safely. We were home, well sunburned, by 8 p.m.
On Tuesday we sadly bade farewell to the Hatchers (sorry, guys, we think we left our toothpaste in the guest bathroom) and took an all day bus back to Mendoza, then caught an overnight bus to Cordoba. The overnight busses are not all that condusive to sleeping but are interesting in that you get to observe the nocturnal habits of Argentines as you pass through cities in the night. As we came out of the mountains it got warmer and the wind let up some, and even at 3 a.m. and 4 a.m. people would be out in the streets or eating or drinking in sidewalk cafes. Nice.
Cordoba was, well, uh, interesting. We got in at 6 a.m. and spent a few hours drinking coffee in the bus station. When we walked into town we noticed that everything was closed. Not that big a deal since most Argentines don´t really start the day until 10 a.m. or later, but even at 10 everything was shut, the streets were totally empty and there were police everywhere. When we checked into a hotel we learned it was a citywide census project, and everyone except for hotel workers had to stay in their homes until 8 p.m. This made for a very odd day as we went from landmark to landmark ... just us and the homeless people our admiring things.
We decided to cut our losses on Cordoba and took an all day bus to Buenos Aires, or Bs. As. as it is often abbreviated. We came in at dusk and took a taxi to a hotel. Bs. As. is a city of 14 million, making it the largest city I´ve ever been to excepting Calcutta and Dhaka, and possibly NYC and LA. None of those cities, however, are as beautiful as Buenos Aires. We´ll post pictures soon, but it´s very similar to Paris without the monuments, or Barcelona without the signature buildings.
We finally got our passports dropped off at the Brazilian embassy. Not only do they make American tourists wanting to spend money in their county pay $151 each (cash only, thank you) just for the pleasure of getting in, but they also wanted us to have confirmed tickets in and out of the county and copies of bank statements. No thanks, we said. We won. (I think so. We pick up the passports on Wednesday. Guess we´ll find out then.)