We've been in Tasmania now for about 10 days, and so far have pedalled about 250 miles. Compared to Victoria, Tasmania is much hillier, much more remote and much tougher. It's a beautiful state, wild and frontier-like, with great scenery and loads of isolation.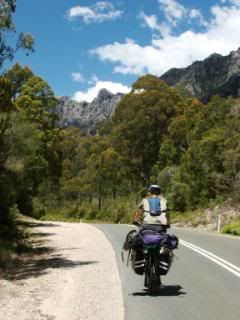 We spent Christmas Eve cycling in light rain and Christmas day on a fun mostly-downhill ride to Launceston, a beautiful city on the north end of the island. Boxing Day we checked into a nice hotel downtown to restock on civilization.
Tasmania is like a big zoo, and we keep discovering all sorts of weird animals. Our favorites are:
*Koala bears are about as cuddly and cute as you can imagine. They spend most of their time sleeping in treetops, where they occasionally wake up to eat some leaves. In windstorms they are sometimes tossed from their perches to the ground below, where they wake up, rub their eyes, and scramble back up. Despite their teddybear appearance, they have this frightful growl which sounds a bit like a monkey call.
*Nothing is more fun to watch than the wallaby. It's a thigh-high animal like a kangaroo that goes around eating grass, then hops off in big whopping jumps.
*The wombat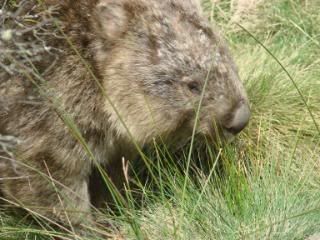 is a lumbering goof that grunts around looking for insects and snorts at night. Very cute.
*Think of the echidna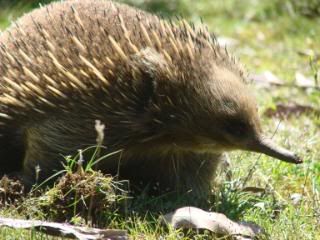 as a miniature porcupine, as wide as it is long, that ambles about sticking its pencil-shaped nose into the ground to find insects. When scared, the echidna does not run away but instead hunkers down and retracts its head under its back. Stand still for a while and the echidna will think you've gone, stick its head back out, and waddle around looking for more bugs.
*Most elusive is the Tasmanian devil, which is nocturnal and pretty hard to find. Sometimes we see it out of the corner of our headlamps while walking to our tent at night. They are the size of a small cat, with long tails, and are called devils because of their hissing scream and scary-looking growly face.