After several restful days in Bangkok (still alone -- Laura's back in Atlanta) I took a Thai Air flight to Dubai. When we touched down at 9:30 p.m. local time it was 100 degrees. My ATM card did not work and none of the exchange desks would take travlers checques. I went to the tourist desk and asked the scowling agent for the cheapest hotel he had. He had one all right -- US$70! Could I take a bus there? He laughed. "It's only a $10 taxi ride," he snarled at me.
Welcome to Dubai.
(Mattrah, Oman)
My main reason for coming to Dubai was to go to Oman. I have wanted to go to Oman since years ago I read an account of traveling there in that great American newspaper, the San Fransico Chronicle.
(Old Muscat)
My $70 hotel room in Dubai was pretty poor considering what you can get elsewhere in the world for half that, though it did come with a good breakfast -- pita, yoghurt, cucumbers and feta cheese. I spent the day in Dubai, which is a great place if you have a few hundred thousand dollars to blow. Otherwise it's a cultural wasteland dotted with fantastic highrises.
(Along the corniche in Mattrah)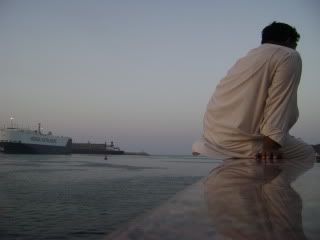 I got the late afternoon bus for Muscat and crossed through a red and brown world of rock and sand and camels. Crossing into Oman the immigration officer waived my visa fee and as the sun set we cruised through small desert towns and into the sprawling suburbs of the Omani capital.
(Dhows in Aliya, Oman)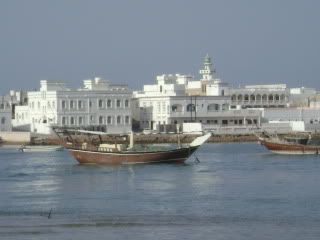 Muscat is a very nice city -- and much more interesting than Dubai, though it shares Dubai's handicap of a dearth of affordable accommodation (my $60 room was in a hotel which featured not one but two niteclubs with Egyptian and Indian dancers; pimps and drug dealers were a part of the lobby crowd). I spent two days in Muscat, drinking coffee and talking to the locals and walking along the spectacular corniche -- the seaside promenade -- at sunset. Like all Omani cities, Muscat is guarded by ancient forts, castles and watchtowers, which make for an intriguing background. It's also bestowed with a fantastic souq -- woodwork from Syria, rugs from Iran, coffee from Yemen, frankincense and sandalwood from the south of the country, antique swords and gold and silver jewelry from all over.
(Muscat's waterfront)
From Muscat I moved on to Sur, a small seaside city on the far northeast tip of Oman. I stayed in the souk (expensive hotel, but minus the dancers and drugs this time) and wandered narrow alleys of whitewashed buildings which dumped out on a wide sandy beach dotted with pickup soccer games.
(Overlooking Muscat from one of the city's many forts)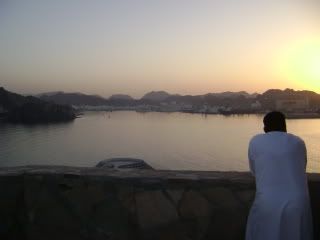 Oman is a country of great beauty, but it's likely the most frustrating I've been to. Most of the major attractions are not reachable by public transport, or if they are, they don't have affordable hotels. One way to visit them is to sign up for a tour and go as a day trip -- a great option if you don't mind plunking down $100 for 4 hours and a sack lunch. I did not feel comfortable spending that amount of money, and with few other options, I went old school -- I just hung out. I read a lot, I drank a lot of coffee, and I walked around aimlessly in the afternoons once the temperature dropped below about 105 (Oman, ever hot, was experiencing a heat wave e even the locals complained about -- morning lows were in the 90s and afternoon highs were more than 115.) I talked to a lot of locals and a lot of the people who work in Oman -- mostly Indians, who come over to work menial jobs at miserable pay in the blazing sun. For the most part, they are friendly and lonely but have appalling personal habits. Actually, meeting regular old Omanis was at times difficult. Most of the nation -- and the same went for United Arab Emirates -- is comprised of guest workers. They hail from all over the Middle East and Africa. The first thing you do when meeting someone is ask where they are from. I met Kenyans, Tanzanians, Afghans, Pakistanis, Nepalis, Indians and Bangladeshis, among others.
(The Arabian Gulf coast west of Muscat)
To every place I go I bring a set of stereotypes and expectations. In many ways these are useful tools, as a individual assessment of every culture you meet would be a mindboggling exercise. But I realize now that for me no culture has carried the sorts of beliefs and stereotypes than the Muslim Arab culture has.
(Sands in United Arab Emirates)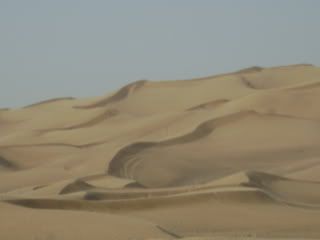 I met Salom and Omar -- both Omanis -- while walking through a park along the corniche in Muscat. They were crane operators on a dinner break from their jobs in the nearby port. Walking around alone you get constant invitations from men (and only men -- you hardly ever see children or women) to sit down and have a chat and a bite. They plied me with pitas spread with soft cheese, hot sauce and crushed potato chips. Salom did most of the talking. He asked about Thailand and America and Obama and if I had any interest in Islam. He made a number of offhand comments I was not sure what to make of. Most of them concerned women.
Salom's break was over. He and Omar had to go back to work. He said he wanted to give me something, and we made plans to meet back up at the same place the next night. Walking out of the park I got more invitations to sit down. One guy handed me an ice-cold Coke. Another wanted to add me as a friend on Facebook. I walked out to the beautiful seaside promenade known as the corniche and watched the sun set. The next evening when I came back Salom handed me a Borders bag. Inside were four books, in English, on Islam for new converts. They made for nice reads and got lots of friendly comments from the locals.
From Muscat I headed back to Dubai. There were no problems crossing out from Oman but I got stopped repeatedly entering UAE and got a full belongings search which held the bus up for about half an hour. I Dubai I went back to the tourist desk, this time one in town, and again asked for the cheapest room they had. $65!
Dubai is a sort of New York for the Middle East. It's a center of trade, finance, industry and politics. Dubai made its money on oil and the city grew exponentially beginning in the 1980s, though the growth seems to have accelerated in the past few years. Like anyone with lots of sudden money, you can do two things -- spend it like it'll be gone tomorrow or save it for a rainy day. Dubai has spent like no other city on Earth has ever spent -- smooth freeways, 160-story buildings, indoor ski resorts, sprawling artificial islands, expansive malls. Somehow along the way Dubai has convinced the world it's a great tourist destination. If you want to go somewhere, spend heaps of money shopping, dining and on hotels, and rent Ferraris for the afternoon, Dubai is perhaps the place to go. Beyond that, however, it's a pretty superficial place. It's top tourist spots can easily be seen in an afternoon. The heat is like opening an oven door. The traffic is legendary. It's got all the panache of a suburban American shopping mall. Top it off -- the locals are surly!
(Main Mosque in Der Dubai)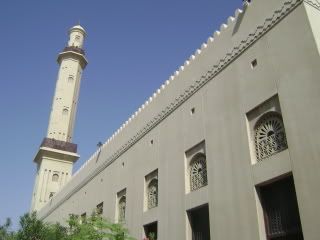 I spent another day in Dubai trying not to spend too much money before heading back to Bangkok. On June 5 we resume the round the world portion of our trip -- we fly back to Dubai and connect to Mauritius.
BOOKS
It's been a while since I updated this list. I long ago decided if I was going to waste my time reading I was only going to read good stuff. Most of these books are by Nobel winners. Not all, it turns out, are good, but all are important in that they represent the highest level of human art and cultural advancement.
Herman Hesse, Siddhartha (very good)
Orhan Pamus, The White Castle (excellent)
William Golding, Fire Down Below (a disappointment)
Mervyn Brown, War in Shangri-La: A Memoir of Civil War in Laos
Albert Camus, The Plague (quite good)
Peter Matthiessen, The Tree Where Man Was Born (a book of exceptional beauty)
Ernest Hemingway, Garden of Eden (great)
Robert Louis Stevenson, The Strange Case of Dr. Jekyll and Mr. Hyde
Joseph Conrad, The Secret Agent (BORING!)
Lewis Carroll, Alice's Adventures in Wonderland and Through the Looking Glass
Balzac, Eugenie Grandet (very nice book)
Herman Hesse, Narcissus and Goldmund
Ford Maddox Ford, The Good Soldier (too hard to understand)
Robert Louis Stevenson, Kidnapped (very boring)
Emile Zola, The Beast in Man (quite good)
Monle Sayadaw, Formation of Five Aggregates, Four Noble Truths and Law of Dependent Origination (similar to many such Buddhist pamphlets I've read on the trip, this was so grounded in jargon and gobbledygook it was unintelligble. Such traits are common among Buddhist texts, I've found.)
Jim Harrison, Julip
V.S. Naipul, In a Free State (a great, beautiful book)
Heinrich Boll, The Lost Honour of Katharine Blum (deceptively complicated)
Pearl S. Buck, A House Divided
Isaac Bashevis Singer, The Manor (very nice)
BEER
Mandalay Beer, Myanma Breweries. Light tasting 7 percent beer brewed by the government
Sri Lanka Breweries Lion Ale -- soso
Gold Label Taiwan Beer -- chewey and skunky