Laura and I went around the world in 2008-2009. It's a bad habit we learned back in 2002-2003, when we did the same thing. We were both living in Utah. I quit my jobs, sold a lot of stuff, and put the rest on a trailer that I hauled down to Texas.
We left June 2 and flew to London. We hopped and skipped across Europe, Turkey and Morocco for three months before flying to India. Stuck, we went to Bangladesh, where we got stuck again and wound up in Nepal, where we spent two months. I went to Tibet and then we flew to Bangkok. We moved around southeast Asia for several months before flying to New Zealand, where we bought used bikes and camping gear and spent three months circumnavigating the South Island. We sold the bikes and went to Tahiti, where we island hopped on freighters for a month. We flew to Los Angeles and took Amtrak to Houston, and that was a year.
We each had a camera on that trip, but we used film cameras. In all, we took about 800 photos -- a lot, but a piddling compared to the 18,000 or so we took on our 08-09 trip, when we both had digital cameras. Anyway, we printed our photos and put them in albums, occasionally assaulting visitors with "Would you like to see our trip photos?"
I've got access to a scanner now, so I thought I'd post some.
November, 2002: A hike around Annapurna, Nepal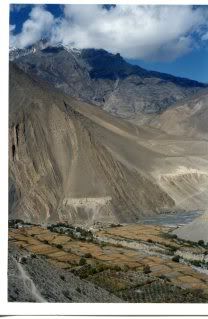 August, 2002: Hamil loads our camels after a lunch break outside Zagora, Morocco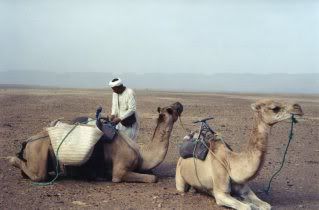 September, 2002: Laura in an old Bedford taxi in Calcutta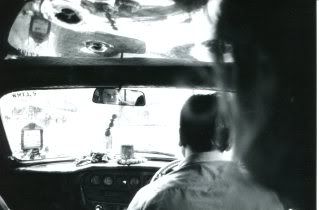 September, 2002: Quite an amazing photo, considering the circumstances, and difficult to this day to look at. We took a Trooper from Calcutta to Dhaka. We left at 6 a.m. and had three flat tires. We were left alone to walk through the border into Bangladesh. They kept us in a room where Laura got a marriage proposal, and the bus left without us. A boy came with a bike and pedaled us to a new bus, which poked across the Bangladeshi countryside before loading onto a boat which crossed the Ganges in the dark, surrounded by thousands of other boats, in what I can only describe as a scene out of Dantean novel. We arrived, with Laura now quite sick, in Dhaka at about 9 p.m.
November, 2002: The morning of our flight to Bangkok, at Amar Hotel, where we stayed for several weeks in Kathmandu, often the only people there. Amar is on the left.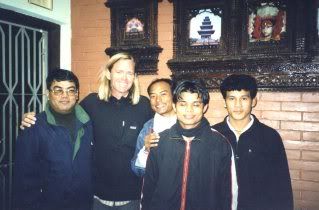 February, 2003: A minibus ride from Medan to Bukit Lawang, Sumatra.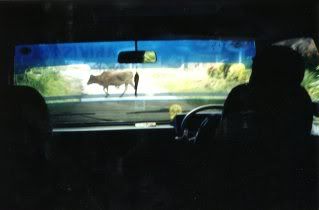 February, 2003: Me looking quite sweaty in the jungle in Malaysia.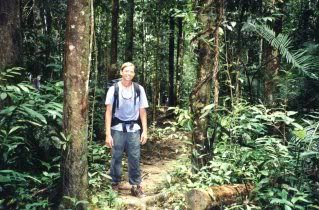 January, 2002: One of my favorite photos. Laura on a perfect beach in Ao Nang, Thailand.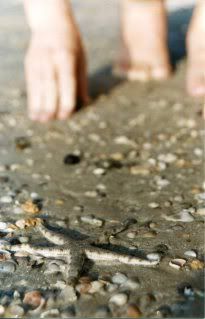 August, 2002: Dolomites, Italy.
November, 2002: Another amazing photo -- downtown Lhasa, Tibet, with Potala Palace, the boyhood home of the Dalai Lama, in the background. Lhasa sits at more than 11,000 feet above sea level.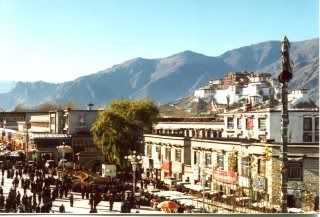 June 2003: Round the world, completed. Laura in Atlanta with Jimmy and Bill.