You have to take your shoes off to enter Wat Pho.
The edge of the concrete, when your bare feet hit it, is hot from the sun, but stepping into the shade and the marble floor you feel coolness take over. The reclining Buddha, at more than 100 feet long, stretches toward brilliant sunlight at the other end of the building.
Mostly it's tourists here to walk through Wat Pho, but there are plenty of Thais, too, who place sticks of incense in pots and kneel in front of the statue and drop small coins in a line of buckets along the back wall. The sounds of coins dropping into the buckets is strangely beautiful.
Wat Pho is a small respite from Bangkok, a frenetic city of sound and light. It's hot here -- 99 yesterday -- so hot that we've both felt sick at times while walking. There's respite from the heat only in air conditioning -- the low at night barely dips below 80.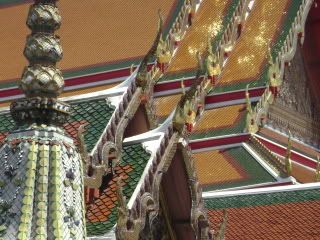 Bangkok is the first real place we've been to on this trip that we have visisted before. We spent a week here in 2002 and several more days in 2003. For travlers like us it's an indespensible pit stop where you can pick up visas and restock on supplies while enjoying 90 cent beers and 10 cent sticks of grilled chicken and $4 hour-long massages. Seriously.
We planned about four months in Southeast Asia on this trip -- two months to see places we had not seen, like Philippines and parts of Indonesia, and two months to see where we could go cheaply. Bangkok is likely one of the world's great centers for cheap airfare. Travel agents in and around the backpacker haunt of Banglamphu advertise dirt cheap fares to all corners of the globe. One I saw yesterday was a series of one-way flights from Bangkok to: two cities in India, one in Kyrgyz, one in Jordan, two in Africa and one in Europe -- for US$699!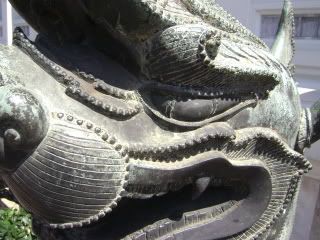 We had big plans for cheap flights in these two months, but as with many things once you start to look at specifics your range of choices dwindles. A number of things are complicating onward travel to destinations we had in mind. For example, one-entry visas for Americans to China are now $200; consular officials for Myanmar, a military dictatorship, now require visa applicants to submit to an in-person interview and are explicitly denying entrance to journalists, even those on vacation (interesting to note as so many are predicting the end of newspapers that even the presence of a journalist in some countries, presumably because they report truth, sends some countries into titters); and while comparatively cheap, airfare to some destinations we had in mind, like Bhutan and Mongolia, is still prohibitively expensive.
We have picked up some deals, however. Tonight we leave on a Cathay Pacific flight to Sri Lanka, an island nation off the south coast of India once called Ceylon. We got a quote for the flight on Thursday for a Sunday flight and had to scramble to get a guidebook and figure out how long we want to spend there. Two weeks seems a compromise between seeing the island's incredible sights and putting up with its, ahem, "eccentricities." And for about the same price -- US$200 round trip -- we have tickets for Taipei, too. We still have four weeks in May we need to figure out what to do with -- despite the visa cost, we are still contemplating China. And maybe by then we will have dreamed up other places to go to.