"WELCOME TO THE 21ST CENTURY"
We spent our final few days in Sydney relaxing, walking, going to the beach and pickup up some last minute necessities.
Sydney is a beautiful city, and we spent the extra money to stay downtown, which was more convenient for us. It was hard to adjust to relying on other people and public transport to get around after two months of freedom on bikes, but we walked all over the very dense downtown and took a train and bus out to famous Bondi Beach, which I was pleased to see had a relaxed attitude toward topless sunbathing.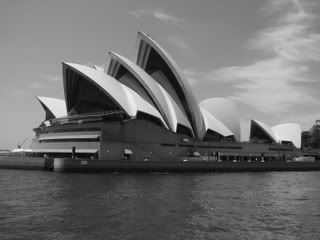 Each morning we'd wake up and first thing would go out for a walk/jog (I walk, Laura jogs). I'd do a loop across Darling Harbor, thick with swanky restaurants and sailing yachts, and through the fringes of Chinatown. Alongt the way I'd listed on headphones to some of Sydney's fantastic radio stations -- JJJ, 3M and FBI. Australia has a great music scene and the stations play a refreshing mix of music. They are also pretty casual about words that would in the US get you kicked off the air. More than once the DJ would say, "Now I got to warn you this next song has some adult language" and then the song, played at 8 a.m. on nonpublic radio, would delve into some very adult language.
We stocked up on last minute provisions. One of the most important was sunscreen. As I learned from my first trip to Africa, it can be hard and expensive to get sunscreen in countries where the locals don't burn. We got three bottles.
We also decided we really needed to buy a new water filter. My old filter was an MSR pump I got before our first RTW trip in 2002. Costing about $70, it was a simple and reliable machine. To make it work I'd cut the top off a plastic bottle and fill it up with local water. Then a tube runs into that reservoir and you pump a lever to bring water into the filter. The pump forces water through a ceramic filter and the cleaned water goes direcly into a Nalgene bottle. Though the filter kills most germs, we'd usually drop a little chlorine in at the end to make sure everything was dead. A water filter is a necessity when traveling in the third world unless you want to buy bottled water every day. It saved us a lot of money and saved local landfills from hundreds of plastic bottles.
The great thing about the filter is that it's easy to clean. What you do is unscrew the various parts and let them dry. The most important thing to clean is the ceramic filter itself, which you scrub with a rough pad. Then you lube up the other parts, like rings. I used Chapstik for this.
We used the MSR filter for about nine months on our last trip, occasionally in the intervening years, and for four months in South America on this trip. Towards the end we began to have problems keeping the filter clean. You know you need to clean it when you can no longer pump at the rate of one pump per second. In South America we were cleaning the ceramic part every week or more, which is pretty frequent when you are already using tap water. We had to use it several times in Australia and it was really slow. Once, in Tasmania, I cleaned it and got a good liter out -- about 4 minutes of pumping -- but by the second liter we were back to 10 minutes of slow pumping to get a clean liter.
I wished we had gotten a new filter on our layover in Altanta, because one look at the stores in Australia told me we were in for a punishing experience. The same MSR pump we had -- only this year's model -- cost in excess of $200, and Katadyn pumps cost more than $300.
I went into one local store and told the guy what I was looking for and he said "We don't have filters like that." I said thanks and started to walk out and he added, "Welcome to the 21st Century." He showed me a newish device called the SteriPEN. Now, I'd looked into the SteriPEN before but ruled it out, I guess, because I'm a 20th Century kind of guy. But a tutorial from this guy had me sold. The SteriPEN looks like a big pen, only instead of an ink ball at the end there is a lamp. It runs on four AA batteries. You sort of flip the thing on, then dip the lamp into water and shake it around. The lamp emits UV rays which kill more germs even than the old hand pumps did. A liter is filtered in 90 seconds with next to no effort. The only drawbacks are that the pen is slightly delicate and while water may be clean, it can still taste bad. It's hard to complain, though, when what used to take 10 minutes now takes a bit more than a minute. Yes, welcome to the 21st Century.
Unfortunately, the 21st Century does not always work. We've had several problems with the pen and while we have not yet been left without clean water we have had to spend a lot of time trying to get the pen's UV light to come on and stay on. Hopefully we can get that solved.
"TASTES LIKE CHEESECAKE"
We flew from Sydney to Denpasar, Bali on JetStar. JetStar is one of these new discout airlines that basically gives flights away but makes their money by charging you for everything, from pillows and blankets to peanuts and headphones and checked bags. I was sure we'd never make it onto the plane without forking over hundreds of dollars in penalties and blanket fees but somehow we got out without spending an extra penny. Once past checkin Sydney's airport was full of 747s and A380s (the doubledecker planes) headed to all corners of the globe.
Our flight took us over much of Australia, a country almost as big as the US, only once we passed Sydney's sprawl we barely saw even another road. Bali appeared as dusky lights, crowded roads and lots of puddles. At the airport something happened that has never happened to me before: someone was waiting to pick us up. After two months of camping we figured we were due a decent place to stay. I had prebooked a room at the semiswanky Harmony Bali, a $30 a night boutiqueish place in Seminyak. A driver was at the airport with a card which said "Mr. Jeff" and in 30 minutes we were in our room, a/c and tv on. We went out for a late dinner.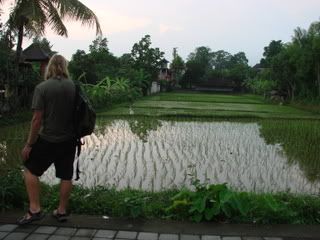 One of Laura's favorite phrases is, "tastes like cheesecake." She originally used it when she ate things that tasted, however remotely, like cheesecake, but of late she'd been using it for almost anything which tastes good. I've heard the phrase a lot since we've been here. We've had pancakes rolled around sauteeed bananas and bananas dipped in batter then fried and served with local honey. Gado-gado has been a great dish -- steamed vegetables like spinach and watercress and string beans in a light broth.n Cap cuy is awesome -- chunks of chicken in a thick sauce with sliced carrots and beans. Also very good is lumpia -- spring rolls in a heavy garlic sauce. We've just about had our body weight in pineapple juice shakes, and the beer, Bintang, is tasty. Cheesecake? It's all cheesecake.
"No, monkey, no"
We're in Ubud now, a small town a bit back from the coast. The cliches are all true: Bali is an incredible and beautiful place. It's also a little hard to understand. It's got all the oddities of the third world -- stray dogs crapping in the streets, people riding motorcycles on the sidewalks, cheap beer -- but is well set up for tourists and has all the mod cons. Bali is Indonesia's one Hindu area, and is full of amazing architecture which is part India, part Nepal, part Thailand.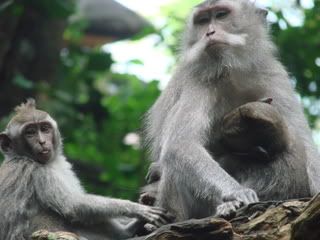 We took a bemo -- small bus -- to Ubud and had lunch, then walked around. We spent $30 to stay at Sania's Homestay in a -- well, how do you describe the place we are staying? It looks like the ground floor of a Hindu temple, and is adorned with fantastically carved wood, carved stone, a pool with koi, fountains, and statues of naked women holding urns on their head with long devilish tongues and fiery devilish eyes.
This morning we went to the monkey forest. It's a forest just out of town full of temples and massive trees and monkeys. I could probably watch monkeys every day for the rest of my life and not get tired of it. These guys did no disappoint. They swim, steal food, pull on each other's tails, push each other out of trees, scream, whine, cry, eat spikey fruits, jump into pools, pick bugs out of each other's hair and lay back real languid while people like me stand there staring at them. And usually while you are staring at one another is sneaking up behind you to get in your backpack. I actually found myself saying at one point, "No, monkey, no" to a litle one which was about to climb up my leg. Have I ever said that before? What happens in Bali ...