Feeling the need to get out of Missoula last week, I begged Monday off work (President's Day, after all) and got off early on Friday. We loaded the truck, threw the plott hound in, and set off down the Bitterroot.
We stopped for coffee in Lolo and picked up some rain in Hamilton, which turned to slush then snow past Darby and heavy snow on up Lost Trail. At Lost Trail Pass, in the dark, we turned east and crested Chief Joseph Pass before descending into The Big Hole in snow and blowing snow. The Big Hole is one of those great Montana landscapes: a few hundred thousand square miles of valley and wolves and the towns of Wisdom and Jackson.
With no traffic on the road and snow crossing it in great drifts we pulled off the highway at Big Hole Pass and camped in the truck.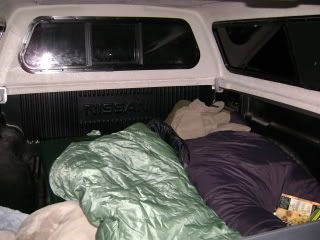 On Saturday we woke to pink skies, a few flurries and heaped snow around the truck. We pulled out and motored down the pass and up to Polaris, home of Maverick Ski Area.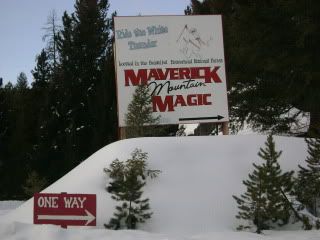 In the base lodge, we found more dogs than people.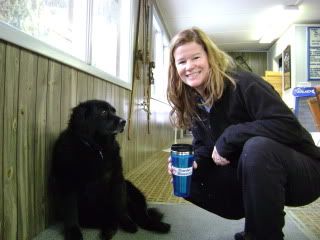 We also found lots and lots of orange carpeting.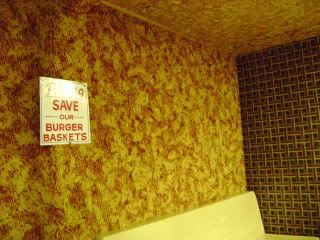 Maverick is 1,520 vertical feet served by a 1962 Riblet.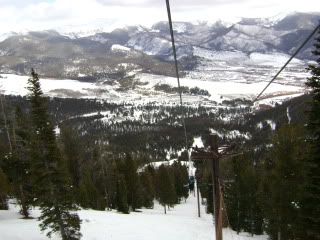 Coverage was thin and grooming was spotty, but what can you really complain about for $30 lift tickets?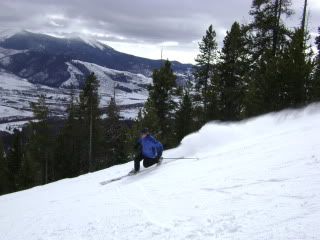 We knocked off early and went to Dillon, where I had romantically made reservations at the finest Motel 6 in town. First things first, however: the Patagonia outlet's President's Day sale.
On Sunday we were up to high overcast. We went back up to Polaris and I took off to climb Comet Peak (10,200 feet). I thought I had scouted a good route up the west ridge but got lost in a thicket more suited to machetes than skis and lost about two hours. Made it only to 8700 feet before having to turn around.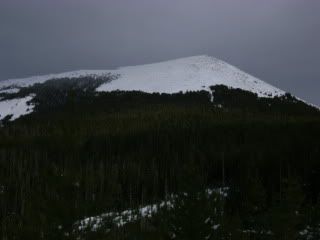 On the way back to Dillon we stopped at Bannock National Historic Landmark.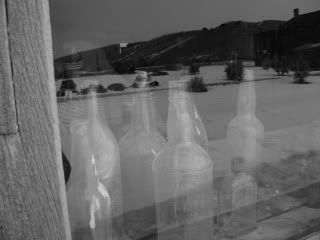 And took in the immensity of the Big Hole.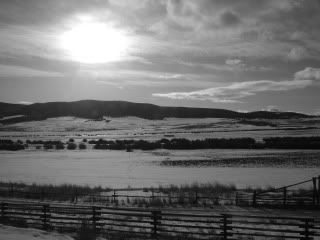 We drove up I-15 and drove up to Dewey, where we camped in the truck in a BLM campground.
On Monday we woke to snow and made first tracks over the Continental Divide, popping out in Anaconda, before heading up to Discovery.
Discovery is an exceedingly pleasant place, and with lift tickets costing $35, my type of mountain.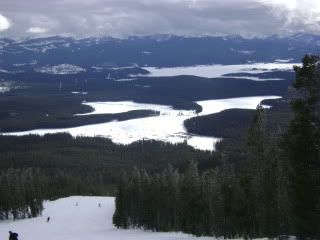 There was a few inches of new snow here, but even that could not mask the fact that this mountain, like every other place in Montana, in is real need of snow.
Lots of variety here -- from 50-yard wide beginner slopes to tons of chutes and cliffs.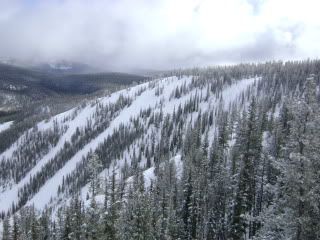 Disco has a new lift opening what looks like interesting terrain on the slope toward Phillipsburg -- and will add to the vertical -- but there was not enough snow down low to open it and anyway it did not look like the installation was complete.
We skied till four, took in Georgetown Lake on the way out and stopped for a Montana original: Huckeberry slurpees (free, with that day's lift ticket!)