The tools of the trade make the truck stand out even on the jumbled assembly of vehicles crossing Kootenay Lake. People en route with us take photos of the mountains -- and the kayaks.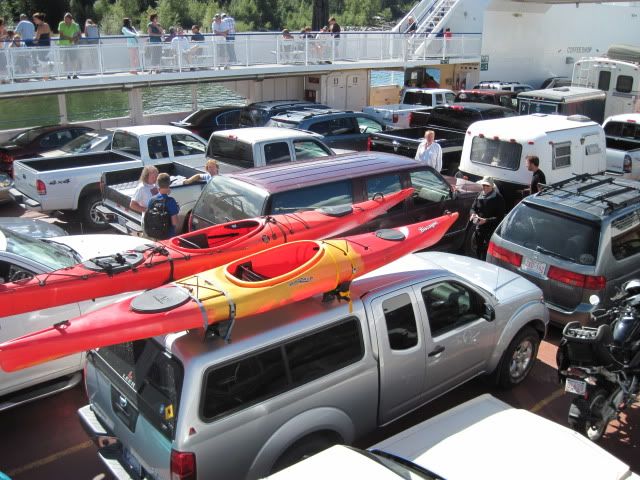 The other tools we use are less photogenic. They take us to great places, too, but leave us hobbled at the end of the day.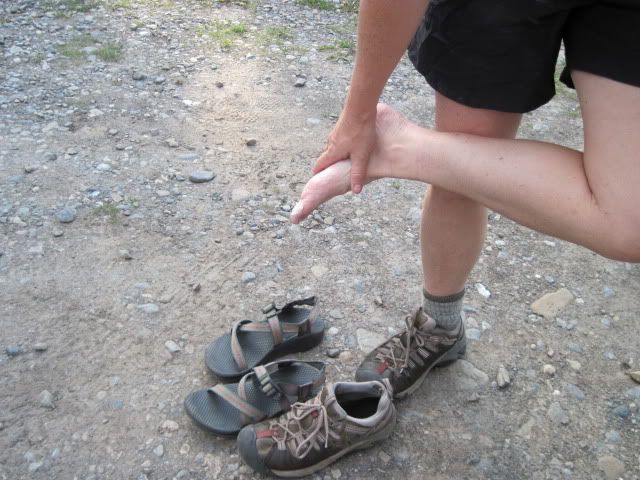 And so where do we go? With the Perception we cross Slocan Lake to enter Valhalla Provincial Park. Anywhere else we'd be in a national park; here in southeast British Columbia the main entry to this little-known park is by boat.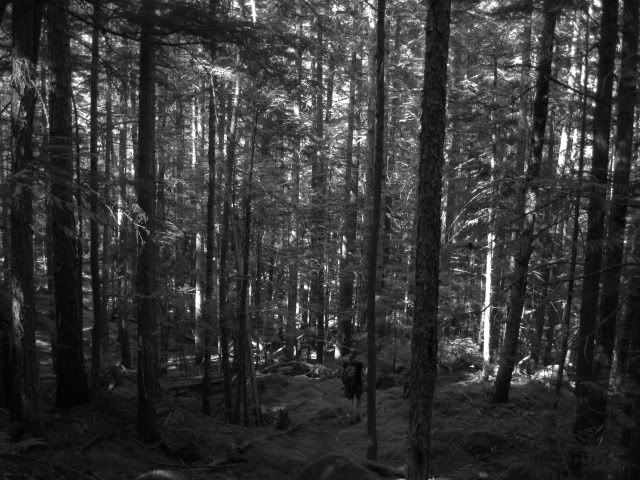 The next day we do find a road to the Valhalla; it's narrow, steep and in horrible condition. Laura walks part of the route ahead of the truck to guide the wheels and roll boulders out of the way. I think of ourselves as pioneers up until when we reach the trailhead, which is full of vehicles, even a Ford Taurus. Some pioneers we are. A short hike, however, regains the feeling. No footprints mark the rock ledge overlooking Mulvey Lakes, still frozen in late August.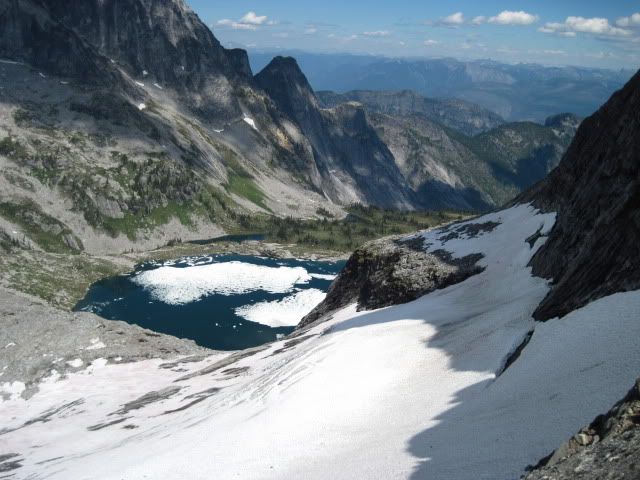 Of course others have been here. I counted six climbers on nearby Gimli.
There's more spectacle to this corner of British Columbia than I imagined. Kokanee Glacier Provincial Park is a short steep drive from Nelson. It smelled like bears but the trail was marked with people of all ages. Gibson Lake hid below; after the hike we kayaked the lake in alpine twilight.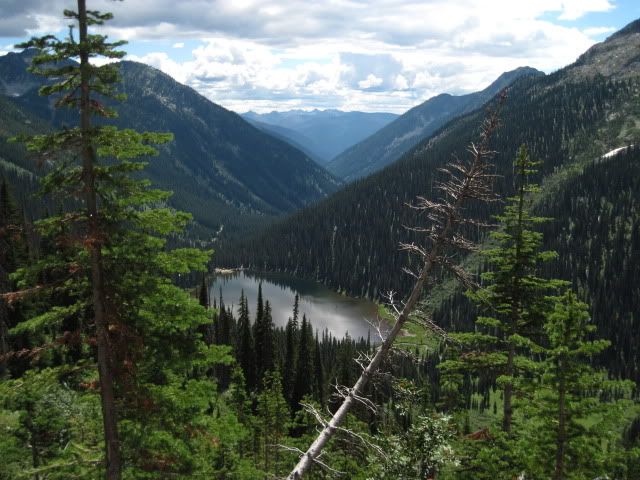 We crossed out of the Selkirks and Purcells and into the Rockies. Immediately the country opened, vistas deepened and narrow roads spread out into broad valleys. Why are there horses on this dead-end road? We saw them both ways.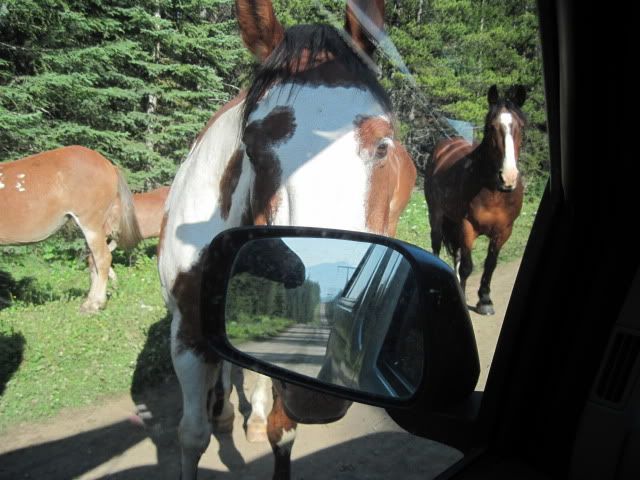 Elk Lake Provincial Park must be the most boring name for a park ever invented. Elk? Lake? Who cares in this elk and lake studded country. We saw no elk, but the lakes were mere backdrops for the alpine beyond.
We hiked to box canyon ringed with glaciers spilling torrents of water into a small bowl. A party was just packing up. Again we wondered who could possibly have trod before us from a barely-marked trailhead at the end of a 65-mile dead-end road through grizzly country and a trail washed out by glacial melt? People who had spread out a picnic cloth and who were drinking red wine and who had a 4-year old in tow, that's who.
I hiked to the cirque above. I agreed with Laura I'd be back in 90 minutes, which it turned out was not enough time. I'll have to return, I guess.
We had planned to head down to Glacier from Elk Lake, but Glacier is easy to get to from our house. Waterton Lakes, not so much. We padded into Alberta and into one of Canada's gems. After a week of below-the-radar provincial parks, Waterton Lakes was annoyingly formal. Crowds. RVs. Entry fees. Rules. But also: more lakes, more mountains, more grizzly.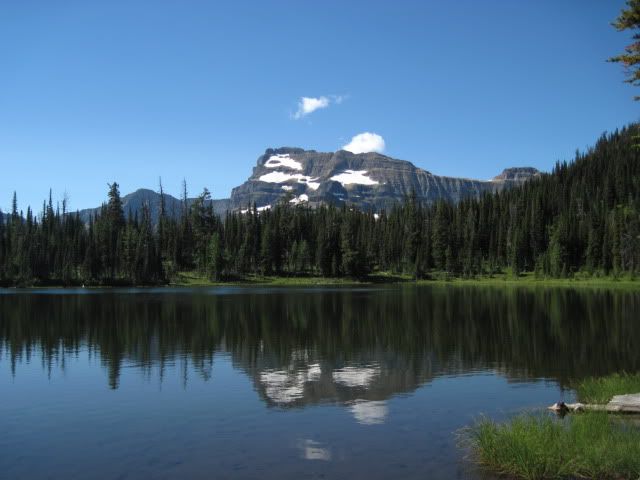 I left Laura alone for a day of photography while I climbed over Carthew Pass to Anderson Lake. August snow is one of the rarest of things; it's always surprising to me how many August snowfields in the alpine are colored by butterflies.
Butterflies aren't the only high-altitude residents, of course. This bighorn followed me for a few minutes while I hiked downhill toward town. I hadn't eaten my lunch yet but I was not about to share.
A storm was bearing down on the Rockies. The wind had been howling for three days, especially along the lakes. We paddled Cameron and put into lower Waterton, but gales and waves made progress uncomfortable. We entered the US and checked our voice mail, stocked up on cheap gas and cheap food, and caught the forecast: freeze warnings as far south as Missoula. We put in at one more lake, Two Glacier on the remote eastern side of the park, and paddled across. Clouds drew and we hugged the shore for protection from the wind. At the far end we pulled up on a beach and changed into hiking shoes; 3 miles beyond was Twin Falls and Upper Two Medicine. We strapped the kayaks back on the truck and drove home.
It rained much of the way.