Just before I went to Austria in the winter of 2008 Laura and I went out and both got new cameras. Laura had been using the old Canon film camera I got as my high school graduation present and wanted something more, ah, modern. I had been using the latest in a string of profoundly cheap and crappy pocket digitals which never seemed to be as good as their advertising claimed.
Laura wound up with an "SLR-like" Sony, and I got a small point-and-shoot Sony. Her's is a larger, better camera while mine is smaller and simpler. Her's is what you use for important shots. Mine is what you use when you don't want to lug a big camera around.
Mine has performed admirably. It is now on image 12,367 -- that's right, the shutter has snapped more than 12,000 times in a little more than two years.
About three weeks ago I started having problems with mine. While the camera is definitely well used -- with scratches, dings and cracked plastic -- it's worked fine until now. Then lately I started getting low-battery warnings when the batteries were fresh. Later, the camera refused to turn on when it was cold. Living in Montana, that was a problem.
Last week, having had enough, I went out and got a new Sony point-and-shoot. This one was actually very cheap and nearly as good as the old one, though it does not feel as solid or perform quite as well.
Most of those 12,367 images were taken on our year-long around-the-world trip. The small Sony was handy in places where you did not want the risk of carrying an expensive camera, or when social situations called for something the locals wouldn't take much notice of.
One day early in the trip, in Peru, we took a day-long guided trip into the Cordillera Blanca outside of Huaraz. This was a longish hike and we went light, taking my smaller Sony.
A few hours into the hike Laura called out to me -- she was taking pictures but got a warning message that the memory card was full. Since we had gone out of our way before the trip to outfit our cameras with large memory cards, that should not have been the case. If the camera was malfunctioning in Peru -- a country not known for its electronics superstores -- then we'd have a problem.
Earlier in the day one of us had replaced the batteries and must have accidentally hit the button which releases the memory card. When Laura handed me the camera I saw that was what happened and popped the card back in. It worked fine.
When the memory card is not inserted into the camera, all images are stored on the camera's very small hard drive -- there's room for about eight images. That's why Laura got the warning message -- while there was plenty of room on the external card, the internal memory had filled up.
Last night, when we were setting up the new camera I popped the memory card out of the old Sony and put it in the new Sony. Then, just to see if the old Sony was feeling like working, I turned it on and snapped a picture. Immediately I got a warning -- memory full. Weird, I thought. So I reviewed the images in memory and found, to my surprise, eight pictures which Laura had inadvertently taken when the external memory card was popped out. I had never thought to look for images on the camera's body and had forgotten about the incident altogether.
While only 14 months old, these are not exactly a time capsule from the distant past, though seeing them last night did for a moment take me back to a time that already seems very long ago.
(Huaraz from 14,000 feet)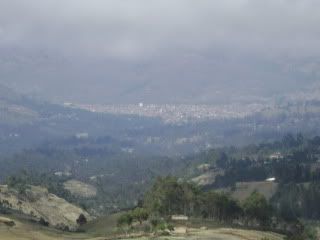 (Looking deep into the Cordillera Blanca -- a range of massive proportions.)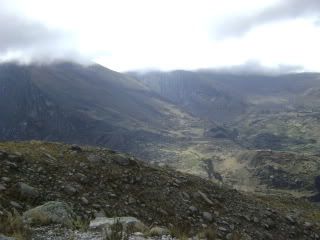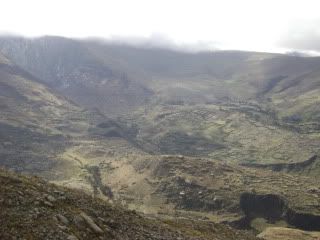 (Me midway up the hike, a scene forgotten until now.)