Walking down a cluttered street in Taipei yesterday, headed from the metro to the city's main Confucian temple, Laura said (quite sadly, I'll add), "I don't know if we will ever get to come here again."
(Coffee time in Taipei)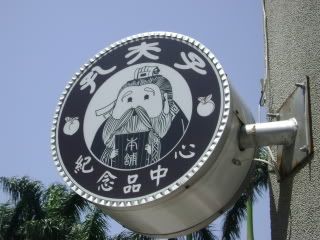 I answered that we probably would not -- actually, most of the places we go to we will probably never go back to again. Taiwan is, after all, an island, it is not particularly cheap or easy to get to, and we have already spent two weeks here. There's so much more to see out there ...
(Tao temple in Tainan)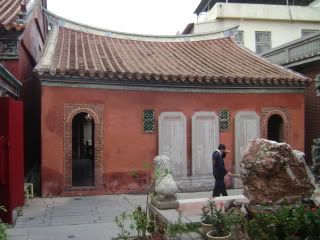 But Taiwan really is a pretty nice place. It's very easy to get around, it's fun and relaxed, the standards are high and there's a lot to see. The major downside is the food. It was hard to really figure out what was going on, since the preparation and presentation of most dishes, even those bought from street vendors, is spectacular. But when you begin to taste stuff ... eeuuww!
(Taipei)
The food train came off the tracks one night when everything I was served came with what I think was sauteed brains on it. Poor Laura, who was just trying to get a cup of plain rice, earned the sympathy of the chef who thought rice alone was not enough -- her rice came, too, with brains. Besides the occasional brain, you also saw lots of whole fried fish (people: do not ever give me a fish to eat ever again), intestines, stomachs, kidneys, livers, tongues and miscellaneous internal (and perhaps external -- who knows?) organs.
(Inscription at main Confucian temple in Taipei.)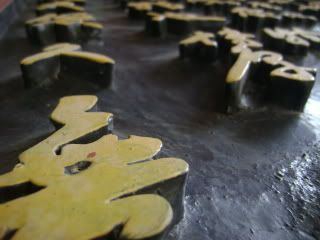 And then there were the classic Chinese-inspired faulty menu descriptions. One, literally, said "Pig knuckle to the exploding onion." So I totally gave up, and Laura mostly gave up, and had fast food for the second half of the trip -- either that, or 7-11, which is ubiquitous here and serves a variety of microwave or add-hot-water meals. Oh thank heaven for ...
(Sacred forest in Alishan)
On our second to last day we left the famous resort of Sun Moon Lake to head to Taipei. The bus from the lake let us off in the island's second largest city -- ah, what was the name of it? Anyway, it let us off at the city's high speed rail terminal. High speed rail? We looked at each other. Why not?
(Alishan)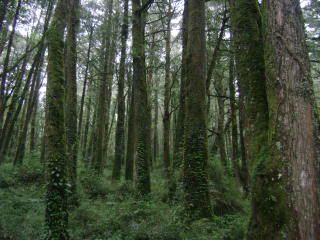 Why not, indeed. After traveling on high speed rail it's hard to fathom why we don't have this in the US. Here's how it works. Walk in to the granite-and-stainless-steel terminal, buy a ticket from an automated touch-screen kiosk, wait until the train is called (or shop in the terminal) and hop on.
(Rainy afternoon at Sun Moon Lake)
Like all trains in Taiwan, the HSR leaves exactly on time, and arrives exactly on time. We had comfortable forward facing seats. The train left the station silently and began to accelerate. The speed was posted on an overhead screen, and within a few minutes we were rolling along at 290 kph -- that's nearly 180 miles per hour. The HSR travels on its own dedicated electric line. To attain high speeds the train needs a practically flat and straight track, which in hilly Taiwan means it is almost totally elevated above the ground (or in tunnels). We crossed 100 miles in about an hour, the pace slowed by four stops. In the southern section of the country, where there are fewer cities, the average speed is much higher. We bought tickets for an off-peak train, and paid about $14 each for the ride. That's about 50 percent more than what you pay for regular express trains.
(Sun Moon Lake)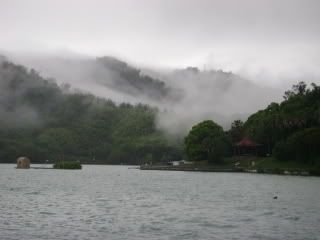 It was easy to see how such a plan could revolutionize travel in the US, where HSR would seen to be even more feasible. With just a few stops, for example, you could easily travel, say, between Atlanta and Houston in 5 or 6 hours -- about as fast as you can drive to the airport, check in, wait around, fly, debark, gather your bags and wait for a ride to pick you up.
(High speed train)
We left Taiwan on a beautiful windy day -- one of the few clear days we had. We trekked around downtown and went to the city's amazing main Confucian temple. We took a bus to the airport and caught our KLM 747 back to Bangkok. We arrived in BKK close to midnight and took the bus into town. As befits a city which just spent heavy rotation on CNN, it's very quiet here. The bhat is down about 5 percent and hotels are offering nice discounts. The receptionist at Sawasdee House actually hugged Laura when we checked in. "You're back!" she exclaimed. It's hot, but it's good be "home."
(HSR clips)