Which is an easier way to get up mountains: afoot or aski? On skis you may slog through snow and grapple with weather, but from the top you have a leisurely schuss down. On foot your muscles carry you the entire way, but the days are likely longer, the weather likely more favorable, and the avalanche danger likely nonexistent.
Lolo Peak, June 26
On June 26 I made the last turns of the season from atop Lolo. I made my earliest start yet -- alarm at 3:30, out the door at 4:40 (What in the world do I do for an hour? Well since Laura's been gone I've been using only a stovetop espresso machine for my coffee, which takes 14 minutes from bean grind to coffee pour.) and atop Lolo Peak by 10:30.
Descent to Carlton Lake
Summer on, the snowline had retreated noticeably from the week before, and where there was snow it was often difficult to ski. But where it was not difficult to ski -- well, it was some of the best skiing of the year.
Endless 1,000-foot vertical runs from Lolo Peak's north summit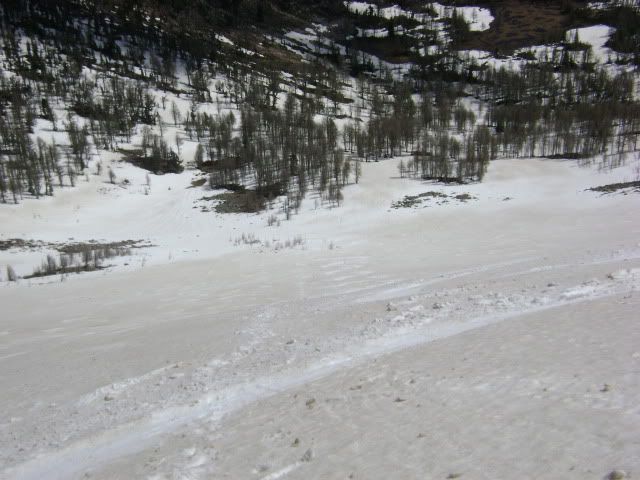 On July 3 I decided to leave the skis at home and don by new Zamberlan boots -- one of the few manufacturers who still make their boots in Italy. I slept in this time -- until 5 -- and headed up the now snow-free Sweeney Creek Road. I guess I should have brought skis as an hour into the hike it began to snow, and came down nicely for nearly two hours.
A breeze swept across this pond, creating a brief fog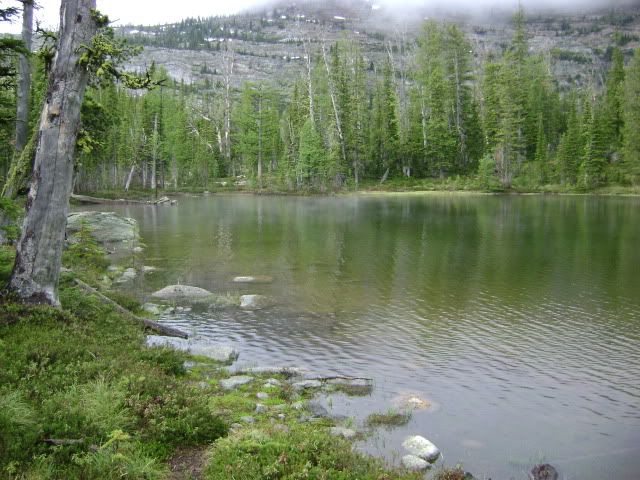 While the sun did come out it stayed cool the entire hike. I was turned around at Holloway Lake by ice and snow.
Holloway Lake, July 3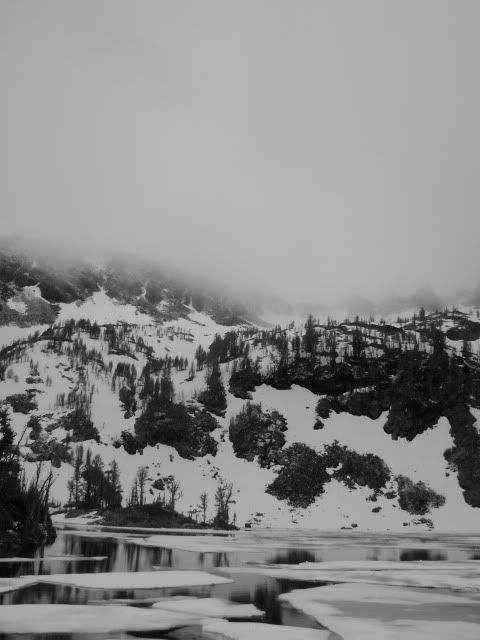 Sweeney Creek Canyon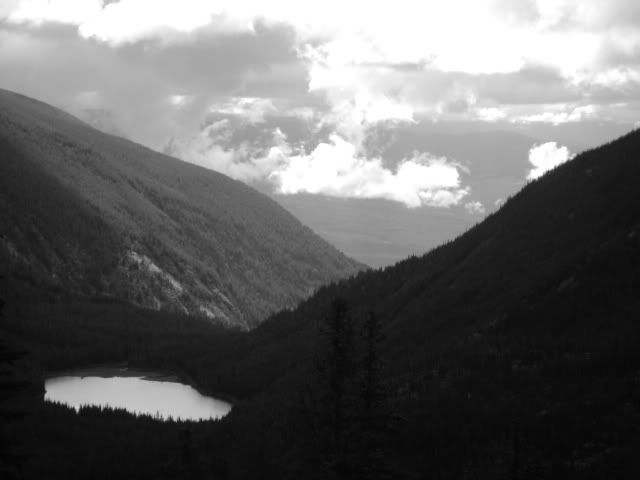 Last weekend I bought my first piece of new gear in a while -- Counter Assault bear spray -- for a jaunt into the Mission Mountains. Half of the Mission Mountains is Forest Service wilderness. The other half is in the Salish Kootenai reservation and is not wilderness -- as a management tag, it's nothing at all. There are a few unsigned roads, no trails, no markers and lots and lots of grizzly bears. Bear spray is certainly not a safeguard, but it's proven to stop bear attacks 92 percent of the time. And it's potent. I'm quite fearful of accidentally spraying myself with it; a direct shot to the eye at close range would blind me, or so the cannister says.
Most of the Missions on the Indian side actually close to human entrance from mid July to mid October so the bears can have a person-free summer and fall. The Missions are unique as they are a range not only full of the animals but also one where grizzlies are occasionally seen not just down low in forests and along streams but also crossing high peaks and passes. Surely that must be an incredible sight.
East St. Mary, Mission Mountains, July 10
I was up at 4, hit snooze a few times, and out the door by 6 (yes, another two-espresso breakfast). The trail up East St. Mary gains 4,000 vertical feet in an incredible 2 miles; the last two miles takes you up another 1,000 vertical. It's ridiculous, and nearly a full week later it's painful to descend stairs or even curbs.
Gray Wolf Peak, Mission Mountains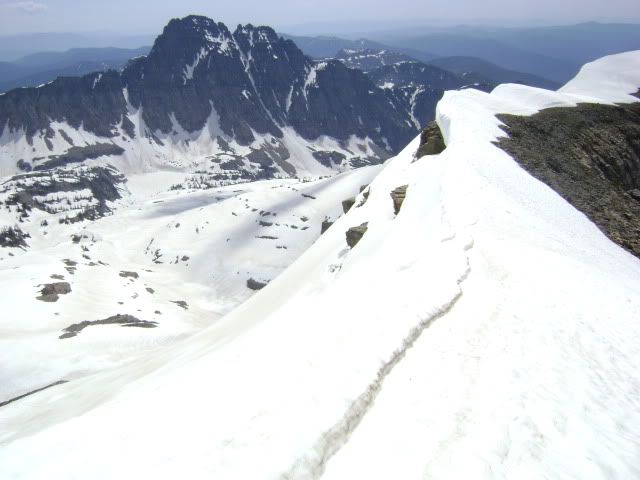 I made it to the summit by 11.20 a.m. It's an incredible experience to be atop a great mountain in fine conditions, and atop East St. Mary it was clear, calm and cool.
Glacier lilies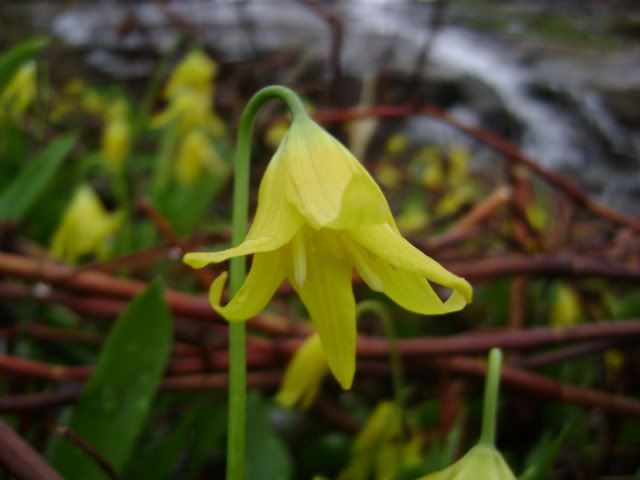 I could have brought my skis here, too, as the sprawling bowl between East St. Mary and Gray Wolf and northward holds an incredible amount of snow. The descent took two hours, and luckily I did not see a bear. After having seen one in Glacier a few weeks back I can say confidently this is one animal I never want to see again.
West St. Mary from the summit of East St. Mary -- I did not climb it. It looks hard!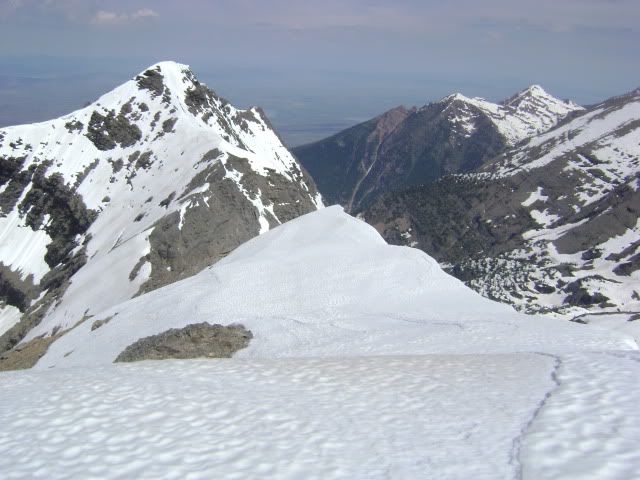 Summit, East St. Mary, Mission Mountains, 9,500 feet, 11.20 a.m. July 10, bear spray at the ready