Missoula has all the trappings of a smug little progressive city. We have more bike shops than car dealers, more breweries than McDonalds, and snowy city streets that can go an entire winter without seeing a snowplow. Why, then, does this city continue to put its stamp of approval on new construction that looks like shit?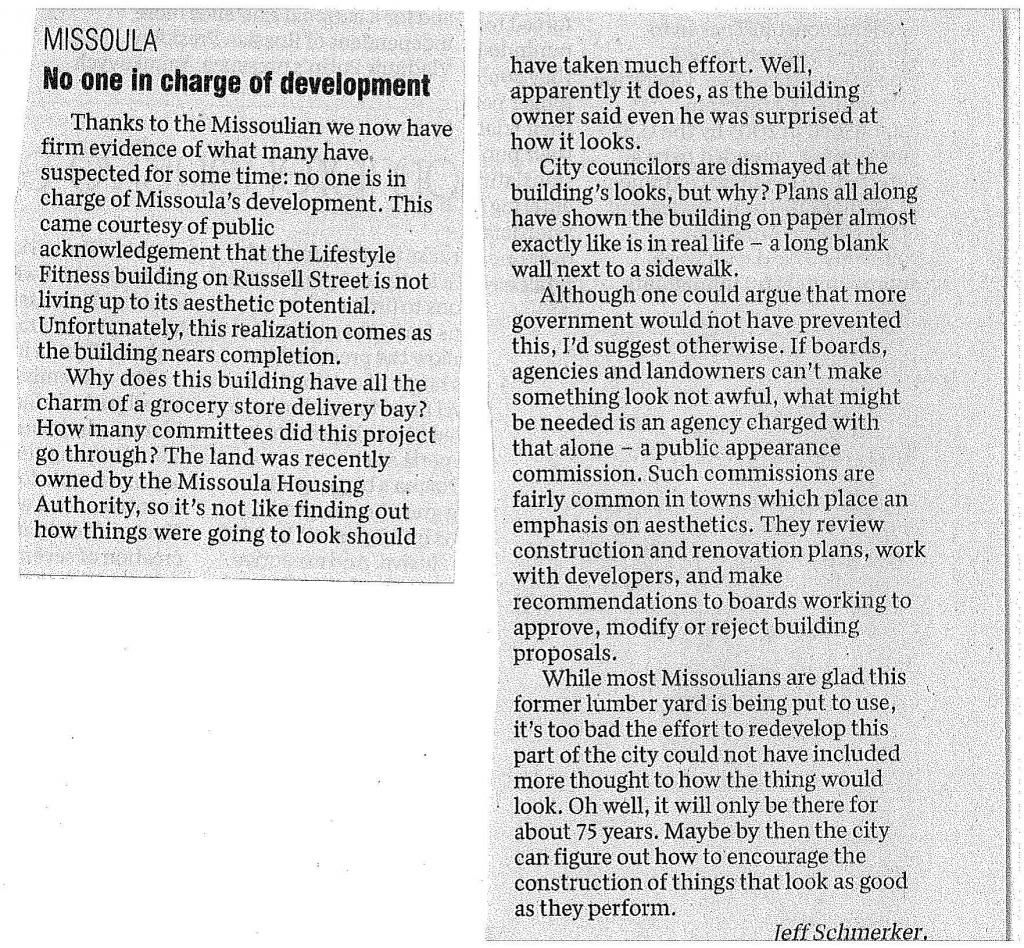 Towns that give a crap about how they look hardly hesitate to form boards whose sole function is to meddle in architectural drawings. In Biltmore Forest, which is about ten times richer than Missoula but not even half as liberal, I once sat through a design review committee meeting where appointees debated for a half-hour if a renovated home's back doors should be French, French Provincial, or French Country. That's what I'm talking about!
Fred Van Valkenburg no longer has the moral authority serve as county attorney.
There was a time when Van Valkenburg could have deftly maneuvered the current crisis to appease critics and build a better attorney's office. That time is long gone . When presented with a 20-page federal report on his office's shortcomings, he called the contents lies and said the Department of Justice had no constitutional authority to investigate him. He cajoled the county commission into granting him $50,000 to sue the feds – a black mark on an otherwise decent commission. He then went on vacation. Being on vacation made him unavailable to the press, but did not prevent him from personally confronting his critics at home and abroad.
Missoula has enough crap to deal with these days. It ought not to have to put up with an attorney who is causing problems rather than solving them.
And after all that, who doesn't need a good pancake recipe?
Pancakes for dinner, Southwestern style:
2 cups flour
2 tsp. baking powder
1 tsp baking soda
1/2 tsp. salt
2 cups milk
2 eggs
4 Tbs. vegetable oil
1 can chopped roasted green chilis
2/3 cup shredded cheddar cheese

Mix until incorporated, then cook on a griddle. Serve with a sauce -- I mix 1 cup of sour cream with a generous dollop of hot sauce.
Oh yeah!
And finally, the blizzard update you've all been waiting for.
Missoulia has been host to a historic and record-setting bout of snowfall for the past several weeks, culminating in a real-life blizzard which began early this morning. This storm caused the cancellation of classes not only for Missoula County Public Schools and the University of Utah, but also a host of other public and private institutions – including Hellgate Elementary, which had only closed its doors to a storm once prior to this in the past 30 years. People outside Montana might not immediately appreciate the sort of winter we've had lately, but I think you can safely assume that when things are so heavy that even Montanans take notice, then they are pretty freaking heavy. National Weather Service Missoula summed things up nicely this morning in their forecast discussion: 'The weather will not be fit for either man or beast.'
Montana, it's so … colorful:
The map shows the state from border to border covered in watches and warnings of one form or another, but actually many spots in Montana currently have two warnings simultaneously.
The slate of storms has left the mountains with their deepest snowpacks in years, and made possible legitimate backcountry skiing options leaving literally from town. I'll end this post with some pictures I took skiing University Mountain this week after work: