It had, it turns out, been not only a year since we'd been on vacation, but even longer than that since we'd been out of I guess what you would call our 'bioregion'--the Northern Rockies. So on Laura's suggestion last week we packed our bikes and our tents and headed to Oregon.
Barview Jetty.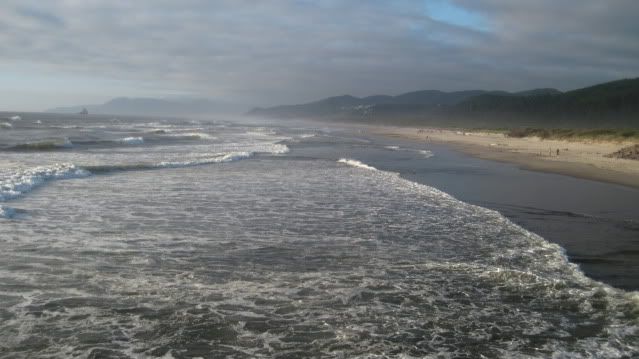 The first thing I noticed when I left the mountains is that without peaks on the horizon the sky seems to lose its anchors. And, once you leave Montana, everything is crowded. It was hard to get used to lots of people being everywhere.
15 miles down on the first day.
We drove through the ugliness that is Pasco, Wash. (though they've got lots of Mexican stores, so it's hard to hate the place too much) and sneaked into a municipal campground just over the Oregon border. In the morning we drove through the Columbia Gorge, stopped at Multnomah Falls, and tooled into Portland, where we made an all-important stop at Trader Joes. Driving the freeways of PDX was by far the most dangerous thing I've done in a long time, but somehow we managed to get the Altima pointed west and enjoyed lunch overlooking the Pacific.
We visited the Tillamook cheese factory, but were not as impressed as some others were...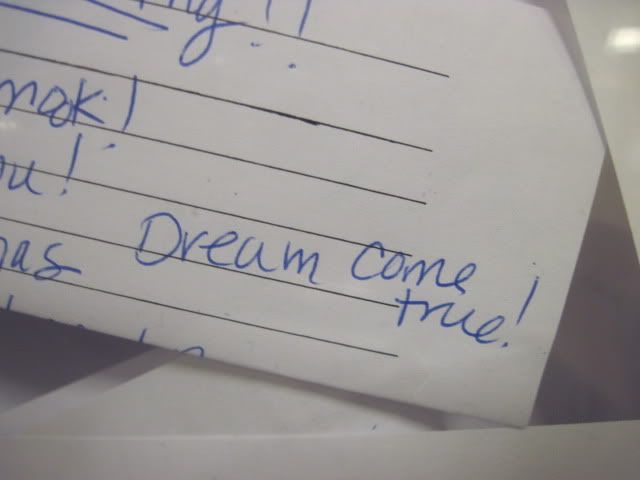 Spectacular Cape Lookout on Day 3.
For the next eight days we worked our way south. I biked the coast, starting in Oceanside, a few miles south of the border with Washington, and each day pedaled anywhere between 40 and 70 miles. Laura, who is too pregnant at this point to do much long-distance road biking, stopped at each and every state park and public beach along the way, occasionally meeting me for lunch, and then headed on to one of the campgrounds where we had luckily had the foresight (thanks to the encouragement of my dermatologist) to make reservations.
I met Laura for lunch on windswept Seal Rock.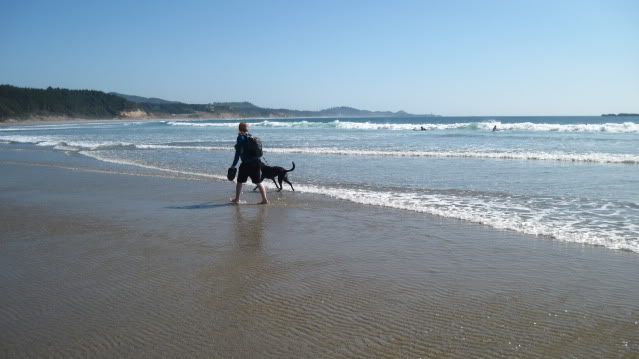 I drank beer at the Rogue brewery, just under this bridge. Laura watched.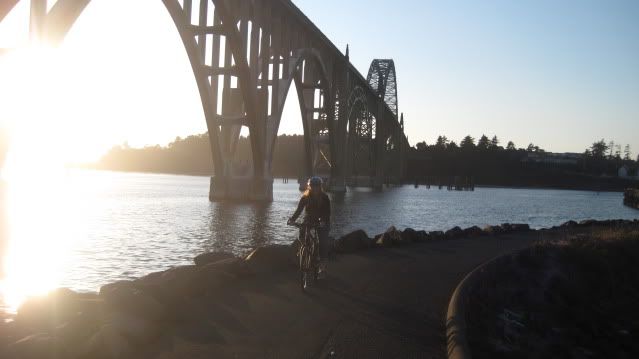 Oregon state parks are plentiful, sprawling, and quite nice. Most are beachside--literally--and feature amenities you can only dream about in a Montana park, such as hot, free showers, places to wash your dishes, and the guarantee you won't be woken up in the middle of the night to find a grizzly rooting through the nearest trash can. They were also packed, and we got the opportunity to observe that strangest of American species,
Homo camperus
, in detail. Campers cart a staggering amount of shit around with them. Most campsites featured 40-foot RVs, which pull SUVs, and many had separate trailers packed with bikes, boats, eating tents (not to be confused with sleeping tents), tiki torches, outdoor rugs, full-size BBQ grills, and pets, relatives, neighbors, and children. On the other hand, the campgrounds come sunset, despite being totally full, were nearly silent, since everyone went inside their RV to watch movies and eat popcorn.
A few miles into the incomparable Cape Perpetua.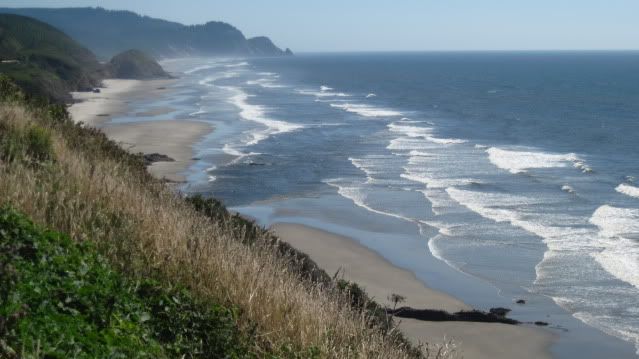 U.S. 101 on Cape Perpetua.
The note on the sign said, 'Wait for a break in the traffic, push the botton, and pedal like hell.'
The Oregon coast is indeed fantastic. We enjoyed stellar weather, with highs never topping 70 and lows never below 50. There was a consistent and strong north to south wind, meaning I always had a push in my favor. The only drawback to the road was the traffic, which is intense and pervasive, except late in the afternoon. The traffic is what keeps the route from being truly world class.
Heceta Head. The lighthouse was a half-mile hike. Who in the world wants to hike a half-mile to a lighthouse? No thanks.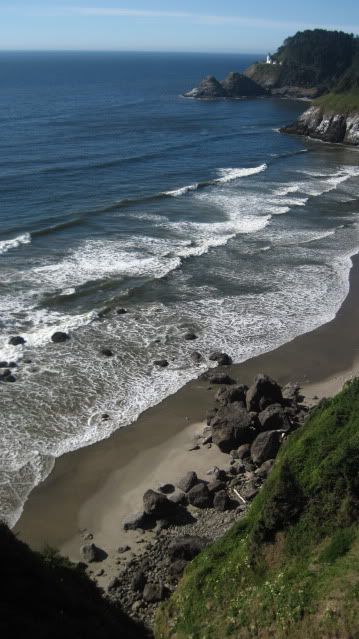 Because I like to keep track of things, here are some numbers from the trip. I pedalled 376 miles in seven days, and was on the bike for a total of 31 hours. I averaged about 13 miles per hour. My fastest speed was 39.0 mph. I had zero flats, and only two minor run-ins with drivers. (It's telling that the driver of a 40-foot RV, pulling a boat, thinks that it's the 18-inch wide, 4-foot long bicycle that is the one in the way.) Starting about 7 miles shy of the Washington border, I made it to milepost 312, or about 40 miles from the California line. So no, not a true border-to-border jaunt, but a good one nonetheless.
Laura and I did some short segments together. Here we are north of Port Orford.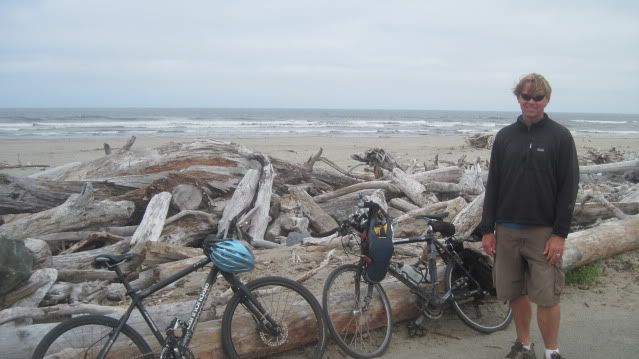 And on Cape Arago.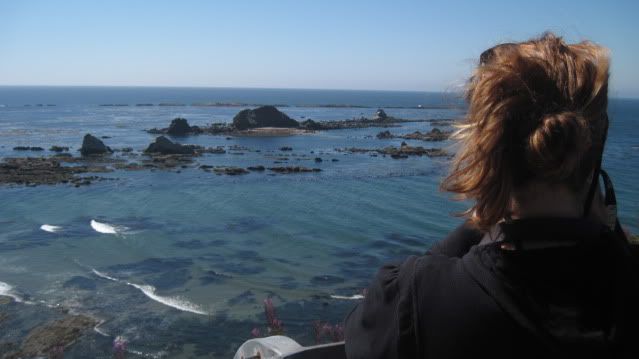 I'm used to mountain climbing. You start early in the morning and at some point make the decision that you are going to make the peak or not. You turn around in defeat or summit in triumph. Biking is different. I started the trek in a public parking lot in a beachside town and finished up in a campground overlooking the ocean. I felt like pedalling a bit more, so I arranged for Laura to pick me up in a half-hour, and I made another 6 miles before she caught up to me in the parking lot of a botanical garden. It was a fine accomplishment, but the road wound on another 40 miles to California, and then some 850 more to Mexico, and then a thounsand or so more to Guatemala, and so on. There's no apex to the thing, just a stopping point where your ride arrives.
The end of the road south of Humbug Mountain.
So Laura picked me up, we went back to Humbug Mountain, had a great dinner, walked on the beach, and were up at 6 the next morning to make the trek back to Portland (and Trader Joes) and then on to Missoula. Maybe, next year, I'll tackle California. Who knows?
A final stroll on the beach at Humbug Mountain.