William Kittredge, in his memoir, noted that 'People who grow up on deserts seem driven to the sea, which they imagine as the source of possibility'.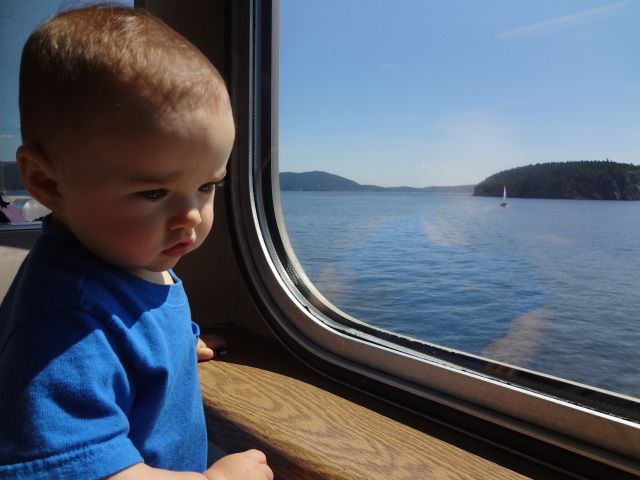 (Sailing to Orcas Island, August 12, 2012)
We imagined it as a source of biking, though I guess that implies a sort of possibility, too. (And I'll also note that Ed Abbey would have corrected Kittredge -- when people say they love the ocean, Abbey said, what they really mean is the love the shore, not the water itself.)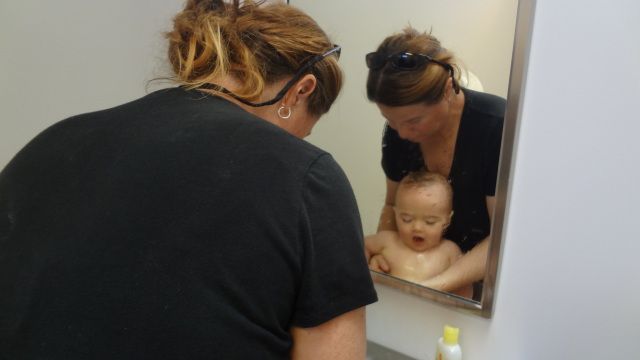 (Sidney, BC, August 17, 2012--funny story: we had coin-operated showers in the first campground but I elected to save money and just swim in the nearby lake instead; turns out we saw no showers, coin-operated or otherwise, for the rest of the week, but thankfully the city park in Sidney offered a locking 'family' bathroom and a sink big enough for at least one person to bathe in.)
I'd been to the San Juan Islands on a family trip years ago; this family trip we left the car in Anacortes and biked on to the ferry, hopping from island to island and camping.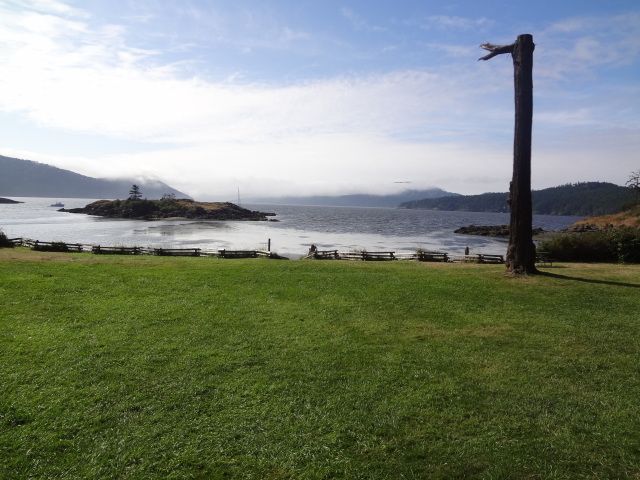 (Eastmount, Orcas Island, August 13, 2012)
Biking seems the only decent way to see the islands, which are small; it baffled us to witness a condensed stream of traffic each morning as people zoomed off the ferry to see an island's sights before zooming back to port. Why are they driving so fast when the island is only 6 miles long and gas is $4.79 a gallon?
(The dirtiest baby in San Juan County Park, San Juan Island, August 15, 2012)
I'd biked like a maniac in the six weeks leading up to the trip. Still, little can prepare you for a day of biking pulling a 60-pound trailer and 30 pounds on rear panniers. So there was some fatigue involved.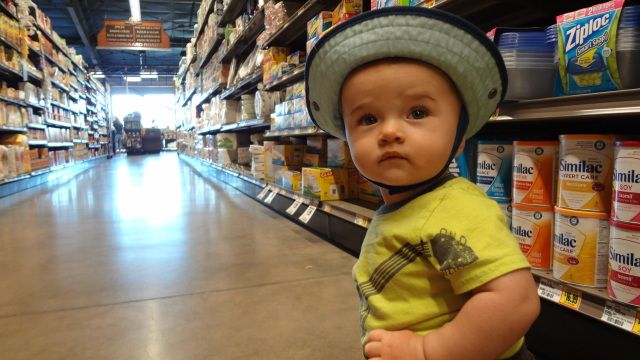 (Bargain hunting in Lopez Village Market, Lopez Island, August 15, 2012)
And so we have this to report: book your campsites early. Take the longest ferry ride first, since you pay only going outbound. Vancouver Island deserves more investigation. The weather was delightful, if a tad warm. The kid likes the beach, moreso when he can shove sand and seaweed into his mouth. There were no flat tires, though my cycle computer gave up the ghost on Day One. And Laura got maps and guides for the Gulf Islands in BC, so I guess we'll be back.
(Boarding for Friday Harbor, August 16, 2012)