This spring and summer in northwest Montana has been a near-continuous cycle of storms and cloud, making travel into the high country difficult even though snowpacks have stayed impressively large. Last weekend there seemed to be a short window of opportunity, so we headed up to the wild east side of Glacier National Park.
Our planned campground near Marias Pass was still drifted over and closed, so we plugged on to Two Medicine, itself open but half snowcoverd.
Two Medicine Lake, 10 p.m., June 24.
In the morning we woke to broken skies and moved camp to Rising Sun campground. Road crews have cleared Going to the Sun Road to within a mile of either side of Logan Pass, but the road remains gated--at Avalanche on the west side and Jackson Glacier Overlook on the east. We drove up to the gate. I stuck my boots and skis on my pack and pedalled 2 miles up to Siyeh Bend and began skinning toward Piegan Pass on a still-thick snowpack.
The weather deteriorated and at Piegan Pass I had clouds, strong winds, and intermittent snow. Thankfully the view was still clear when I made the pass between Piegan Mountain and Pollock Mountain for the view south into central Glaicer.
The descent was a skiff of new on a firm surface.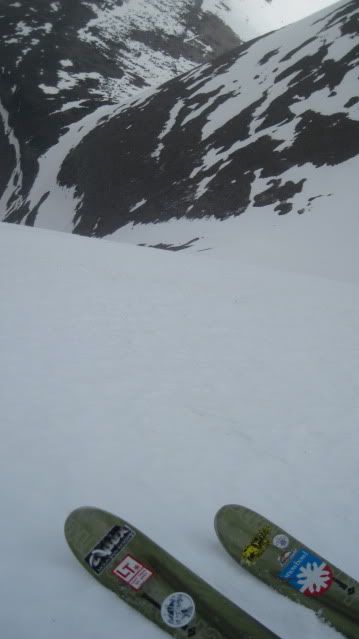 Lower down the surfaced softened nicely.
In the afternoon we hiked to a few waterfalls, went to a ranger talk on wolverines, and called it an early night.
On Sunday we woke to blazing blue skies that quickly detiorated. I was back at the gate by 9.30 a.m. and pedalled 4.5 miles to where the plows sat idle. The impasse was a wall of snow called "The Big Drift", where winds sweep off Logan Pass. This was a curious crux: the drift itself was too steep to cross, and the slope above had too much exposure. Below, in a mellow bowl, snow was creeping off its hold on a line of cliffs in a sort of mellow crevasse; I found a snow bridge and was atop Logan Pass, where it was slightly eerie to be alone in a place which a few weeks from now will be packed with people and their vehicles.
The visitors center: not open.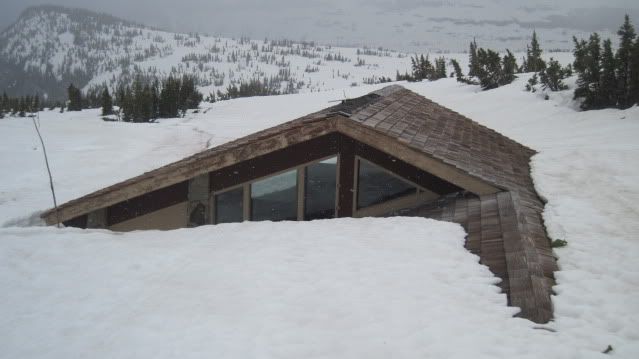 Looking down the valley toward St. Mary, a Wordsworth poem, The Simplon Pass, came to mind:
—Brook and road
Were fellow-travelers in this gloomy Pass,
And with them did we journey several hours
At a slow step. The immeasurable height
Of woods decaying, never to be decayed,
The stationary blasts of waterfalls,
And in the narrow rent, at every turn,
Winds thwarting winds bewildered and forlorn
From the pass, it was a straightfoward skin up the apron below Clements Mountain, and then a traverse along its base in periodic heavy, wet snow.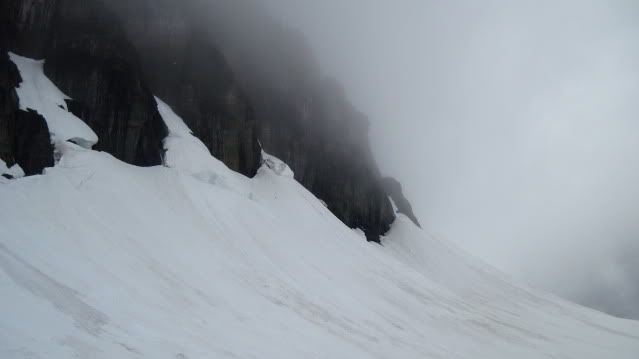 The view out to Bearhat.
The view down to Logan Pass. A few inches of new snow enlivened the skiing.
Crossing the Big drift was much easier coming back, and I made a few short runs out of it.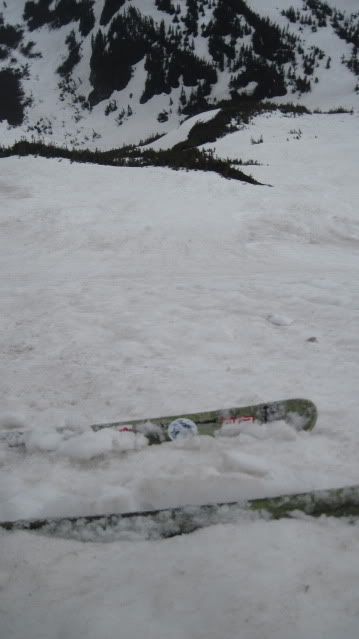 Naturally, once we were out of the mountains it cleared up beautifully. We enjoyed a two hour sunset on the way home: 11 p.m., near Bearmouth, Mont.