Thursday 25 Sept. 2008
Check out of our hostel in Salta early and get to the bus station for our 7 a.m. ride to San Pedro de Atacama, Chile. The bus stops in Jujuy then enters a dry canyon marked by colorful villages. The canyon narrows and we begin to switchback.
At about 10 a.m. we are on top of a sprawling plateau at 10,000 feet. We continue to climb, gradually, and volcanoes loom in the distance. The climb continues to the Argentine customs checkpoint, which is at 13,000 feet. It´s cold here, and windy. Back on the road, in Chile now, the climb continues past 14,000 feet across a broad plain with almost no vegetation -- though there are signs of life: llamas are browsing along the road and the driver occasionally honks his horn to scare them off.
When we hit 15,000 feet there are small pathces of snow and ice along the road, and the bus steward begins to pace up and down the aisle, presumably looking for anyone having trouble with the altitude. We hit 15,400 feet.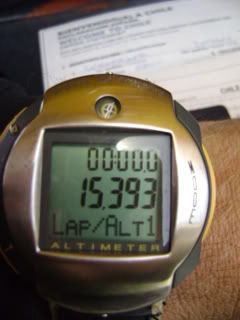 Suddenly the climb stops and we crest a ridge. Below spreads the Atacama desert, the world´s driest place. We descend along a road marked continually with runaway truck lanes. We drop down to 8,000 feet before hitting San Pedro, where we go through Chilean customs. San Pedro is a sandy-street town made mostly for tourists. We check into a hostel and shop around for trips to the Bolivian Altiplano. We find a tour guide we are comfortable with, and the price is right -- $100 per person for three days, the fee including everything except for one night´s lodging and park entry fees. We sign up and have a good dinner.
Friday 26 Sept. 2008
We get up early, have an excellent breakfast and get to the tour agency office by 8. I change our pesos over for bolivianos and we meet Ben and Megan, the Australians we´ll be sharing the tour with.
We get in a minibus and drive back to Chilean customs, then begin the climb back into th Altiplano, turning off on the dirt road marked simply ´A Bolivia.´ We climb back to 13,000 feet and Bolivian immigration. Being Americans, we need to buy another expensive visa, but the immigration guy can´t or won´t sell us one. Instead he wraps our passports in an envelope and gives them to our tour guide and tells us to get the visas in Uyuni, the first real town in Bolivia. We meet our guides: Mario and his wife, who is apparently only called Mama. Mama makes us breakfast while Mario gasses up our LandCruiser using a tank he has tied to the safari rack. There are other tours leaving at the same time as ours, and everyone is in stripped-down LandCruisers, each with huge gnarly tires and gas tanks strapped to the safari rack.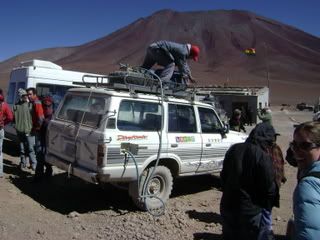 Mario drives the trackless desert and chews on coca leaves while Mama occasionally tells him to watch out for things. The Altiplano rises into a multicolored hue of barren earth and towering mountains. We rise to just under 16,000 feet and make our first stop: Laguna Blanca. The lake is white due to borax deposits, Mario says. Like the others in the Altiplano, it´s teeming with flamingoes and flanked by llamas.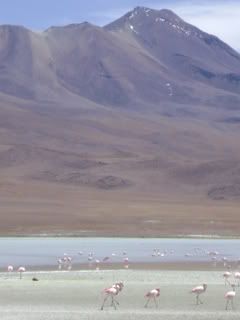 Then it´s on to Laguna Verde, a spectacular sight.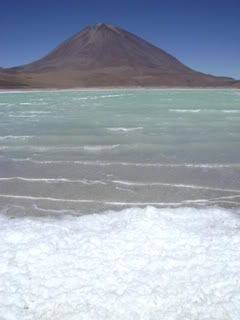 We pass the Desierto de Dali, with its weird rock formations, and stop at a hot springs for lunch, which Mama prepares while I get in the hot springs. It´s nice until I get out, at which point it´s incredibly cold.
At lunch, Mario fixes a leaky tire by taking it off, taking the tube out, plugging the hole with cement, and then putting everything back on and filling the tire up with a bike pump. Then it´s on to an area of geysers and boiling mud pots before dropping down to Laguna Colorado at 14,000 feet.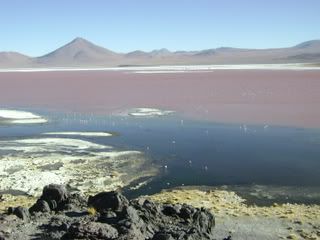 There is a very simple pension here and we walk along lake before sunset. For fun I decide to see how far I can climb up the mountain behind the lake before the sun sets and after a halfhour have not even reached the mountain´s base -- everything here is on such a huge scale.
I´m having trouble with the altitude, and so is Laura. My nose is bleeding, I´ve got a dry hack, my head is pounding, my ears are ringing, and my fingers and toes keep going numb. Don´t sleep at all.
Saturday 27 Sept. 2008
Cold, though with a warming sun. We have breakfast, though I can´t do anything but drink tea. We pack up and a few miles down the road steam pours out of the hood.
The radiator has froze, Mario says. He was afraid of this. He came outside at 5 a.m and the temp was minus 10 F. I walk away for a while and see how incredibly alone we are.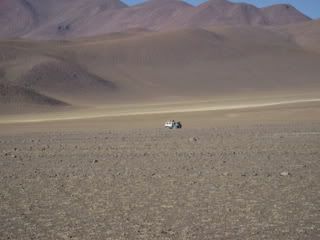 Mario fixes the problem by taking a coat hanger and wrapping a piece of cloth around it. He dips the cloth in kerosene and lights it on fire and holds the flame by the radiator. After a few minutes, problem solved.
We stay between 14,000 and 15,000 feet and pass Arbol de Piedra
before passing a chain of five lakes, all with flamingoes. We descend to 13,000 feet and ride across a salt flat before crossing a railroad track and coming to a village called San Juan. Mario tells us if we want we can visit a museum here. The museum is closed and he drives off, coming back a few minutes later with the woman who has the key. The museum tells about the area´s history, including the tribes which inhabited the area before the Inca came. They hunted llama and grew quinoa, a high-vitamin cereal that grows, apparently, with no water and in below-freezing temps. The main part of the museum is a mummy dating to 1250 AD which still has clothes, skin and hair on it. Mario tells us if we want we can see where the mummy came from. We walk across town and up a hill to a small shack, where a woman takes a dollar from us and points us up the hill. We follow it to an area full of stacked rocks. In holes in the rocks are mummies, about 30 in all. Some are children, some have had their skulls bound into points at childbirth to show they are royalty, and some are just skulls surrounded by broken bits of pottery.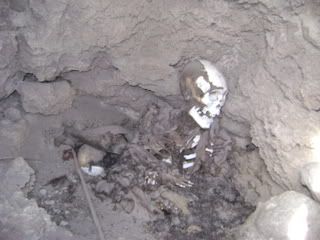 Back at the shack, the woman shows us pins, hooks, unbroken pottery, arrowheads, hair and cloth taken from the crypts. Back in the LandCruiser we drive another half hour until we come to a salt hotel. A salt hotel is just that. Almost everything, from the bedframes to the bar to the reception desk to the walls to the floors to the tables and chairs, is made from salt. Two boys come in after dinner and play songs for us on a flute and drum. We sleep well in the oxygen rich environment of 13,500 feet.
Sunday 28 Sept. 2008
Up at 5 a.m. Outside see sky lit in a fantasm of stars, so many stars it´s hard to see black sky. We leave at 5:20 and sail across the salt flats -- Salar Uyuni. The sun comes up.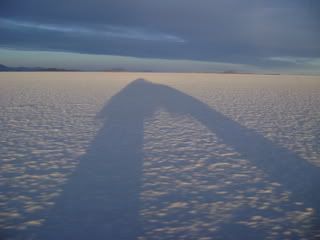 We stop at an island in the salt and climb a hill. Atop it are 36-foot tall cactus that look like saguaro. One is labelled as being 1200 years old. We have pancakes for breakfast and go on, crossing more salt.
We pass an area where men are shoveling the salt into trucks for processing and then a train cemetery, where Bolivia´s oldest trains have been put to rest. Most date from the 1880s.
We get to Uyuni at 4 p.m., get into a hotel, get our passports straightened out, bid farewell to Mario and Mama and the Aussies, and have beer and pizza for dinner.