First of all, a few corrections from the last post: Bako National Park is not the only place in the world to view proboscis monkeys -- Borneo is the only place, though there are several spots on the island; and there are not oodles of places to see the pitcher plant -- it is in fact a protected species.
We left Kuching last week via a very fast ferry and landed in Sibu. After a tour of that town's dreadful hotels and its towering pagoda we took an all-day bus ride to Miri, an oil-rich town on Borneo's north coast. It's rich not only in petroleum oil but also in palm oil.
Oil from palm trees is a primary ingredient in biofuels, and both Malaysia and Indonesia are taking advantage of the fact that the oil palm grows well here. Out of Sibu on the highway to Miri we saw some sprawl, some rainforest and mile after mile of newly planted oil palms. Interestingly, while biofuels are seen as a benefit to the environment, the planting of oil palms is destroying it; rainforest is cut, and then burned, and then planted with row after row of dark green oil palm.
It's difficult to imagine what Borneo must have been like as little as a few decades ago, before the population surged and oil became king and forest was cut down. But you can get a glimpse of it in a few of the national parks that dot the north coast. On Wednesday, we hopped on a bus to one of them, Lambir Hills National Park.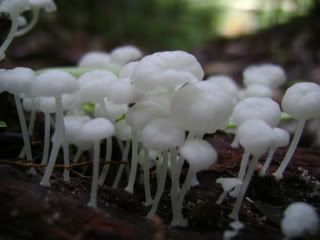 Like most other national parks in Malaysia, Lambir Hills is much too small to provide meaningful protection. On top of that there seems to be no buffer protection to parks here; a ridiculous development which appears to be some sort of private graveyard is going on practically across the street from Lambir Hills' entrance.
Despite everything going against it, walking past the entrance gate to Lambir Hills means you are entering a special place. Mammoth ferns crowd clean running streams, and ants the size of my big toe scamper through the duff. Relax your eyes while looking at the forst floor and you see it is alive with movement just like the air is alive with sound and movement and moisture. We walk a steep hill and then along a ridge, with forest falling off both sides in dense Velvia greenery and musky smells. There's a rattle overhead and birds' calls; a shake of a bush in front of us reveals a day-glow green lizard, only this one has what looks like grasshopper legs. It snatches a bug, looks at us, and takes off.
From Miri we took a combination of four busses to reach Bandar Seri Begawan, the capital of Brunei. Entering Brunei for the first time I got a bit of hassle for being a journalist. When you enter a country you fill out a piece of paper -- the new country wants to know all sorts of stuff about you like your full name, date of birth, passport number, type and place of issue, the number of people traveling on your passport, if you've been to certain disease-prone countries recently and how much money you've got on you. Almost always they want to know where you can be reached in the new country -- a funny thing for us to try and fill out; we usually just write down the name of the first hotel listed in our guide -- and what your occupation is. When I was traveling in Africa and borders could be really sticky, I always put down that I was a student, but after that I started putting writer. Nothing ever happened until entering Brunei, where there was a bit of fuss made behind the passport counter and eventually I had to fill out a form formally declaring myself as a visiting journalist. I told the officer that I was not here "as" a journalist and, better yet, was not even currently employed.
Anyway. Brunei is a country, which most people don't know. Actually I am not even sure I had heard of it until I saw it in the guidebook. But here we are.
Brunei is one of the world's smallest countries and actually comes in two parts -- an east and a west as it's split by a big bay. Other than its frontage on the South China Sea it's surrounded by Malaysia. It's home to quite a bit of oil and a healthy monarchy and a good number of immigrant workers from India, Nepal, Thailand and places like that. Unfortunately, it's also an expensive country to travel in, so we'll have to limit our time here.
Not that there's a whole lot to see in one of the world's smallest countries. We toured the sultan's museum this morning and the central mosque last night during the call to prayer and a brewing thunderstorms and went to the central park before lunch and saw the nation's waterfall and its monkey troupe.
Tomorrow we head back to Malaysia and up toward Kota Kinabalu. We fly to Manila in a week.