Monday, June 16
One last workout with Coach Kile and the Smoky Mountain Aquatic Club. Home and a quick breakfast, then pile 8 large tubs into the truck and all our art into the cab. Bike on top and skis in the rack. There is still room in the truck, so I begin to stuff it with everything I can, from clothes hangars to a half-eaten loaf of bread to a rake, which fit in the rack next to the skis. Leave at 12:30 and while heading down the street see Max, Michelle and Gerald, and then at the light see Jeff and Jonathan, my former bosses.
Hit I-40 west. Breeze through Knoxville. Nice scenery across the Cumberland Plateau. Drive into downtown Nashville and park. Walk downtown for a while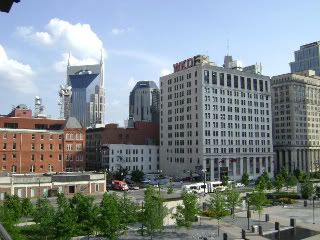 then drive out to Vanderbilt. Walk there, where it is very pretty. Back on I-40 and exit at Montgomery Bell State Park. Camping is just $11 and it's nice and quiet but hot and buggy as hell.
Tuesday, June 17
Cold front came through overnight and it's very pleasant. Take a 2-mile hike to a backwoods home and old homestead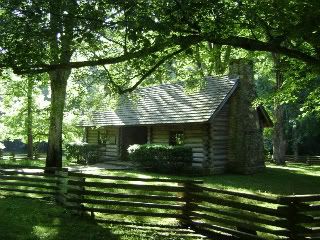 and Presbyterian church.
Hit I-40 and stop in Jackson, Tenn., supposedly the home of rockabilly. Walk downtown and then cruise into Memphis at 2. Laura's cousin Kelly and her husband Eric live here. Go to their house in a cool neighborhood uptown but they're not home, so walk the neighborhood for a while, sweating heavily, then get a pita at Casa Blanca, a Med restaurant around the corner from their house.
Kelly is home when I walk back and we catch up on Laura's sprawling family. Eric comes in and after a spell we walk around the corner to a very hip restaurant that doubles as a bar and was named as having one of the best french fries in America. After we head out in the minivan downtown and park along the Mississippi.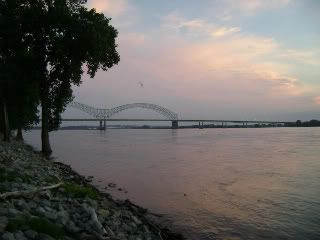 The sun is just setting and the lights on the I-40 bridge have turned on. We watch smoke billow from somewhere in Arkansas. We then head to the Peabody, a swanky old-style hotel downtown and ride up to the 14th floor, where there is a rooftop patio overlooking downtown.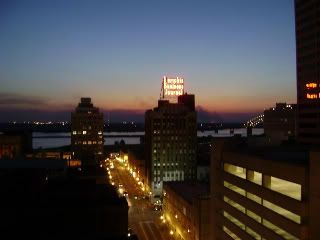 Home and, exhausted, fall asleep in minutes.
Wednesday, June 18
Up early and have breakfast with the family.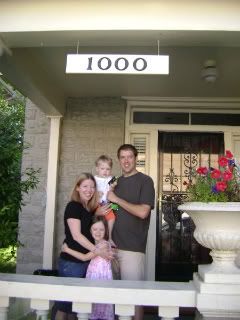 They leave vacation Bible school and work and I head back downtown to the National Civil Rights Museum, which is in the old Lorraine Motel. Taking a photo outside and someone comes up to me -- it's a tour guide with an extra ticket. I head into the museum for about an hour. It's mostly not interesting except for the restoration of rooms 306 and 307 to the moment MLK was shot.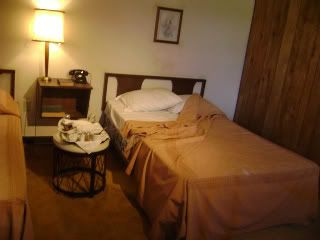 Head out and to Bluff City Java for a coffee.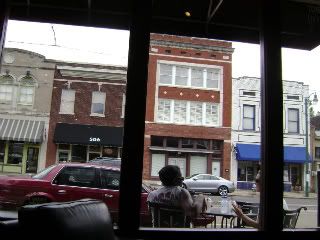 On the road through bleak south Memphis, past Graceland and into Mississippi. Car stutters a bit but cruise into Tupelo.
Walk pretty downtown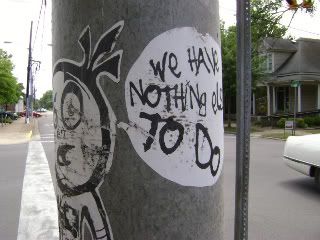 and then get gas and get on the Natchez Trace. The Natchez Trace is sort of like a Deep South version of the Blue Ridge Parkway. I set cruise at 45 and really relax, but stop every once in a while to do little hikes.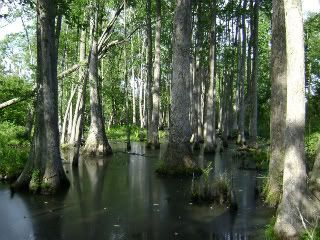 Came to think that tales of Mississippi's poverty were exaggerated, then I exited to see a historic town and was greeted by junked cars and abandoned single wides and went, Oh, so that's what they mean. Exit at Jackson and head downtown. See the capital but nothing else really to look out. Set out to find a historic neighborhood or something but the town just seemed to end.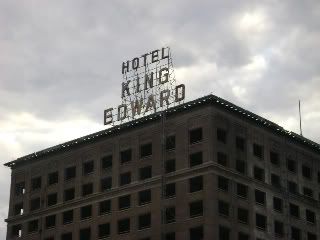 Weird. Get on I-20 then back on the Trace on the other side of town and continue south. It gets dark and the road is lined with deer. Pull off into a free campground at Rocky Springs. It's nice but it's muggy, hot and I can hardly hear myself think for all the bugs.
Thursday June 19
It's a nice morning and I bike 20 miles back north on the parkway so see what I missed in the dark. Continue south and stop in Port Gibson.
S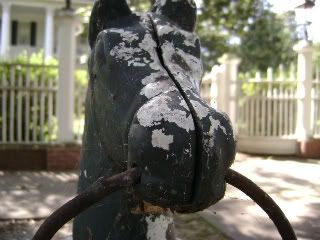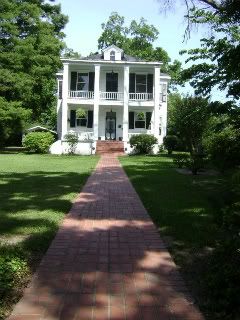 Soon the parkway ends in Natchez. Natchez is hot but full of wonderfully restored homes.
Walk the streets for a while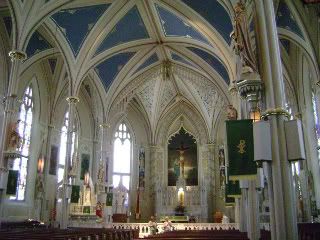 then cross the Mississippi again and enter Louisiana. Take back roads and levies south; cross a river on a ferry
and drive through a string of very pretty towns. Hit Baton Rouge and get lost for a while. Walk downtown for a bit
which is very nice, though it's really super steamy and hot. Look around LSU but find it to be uninteresting. Hit I-10 and crawl for a final time over the Mississippi, then hit the Atchafalaya Swamp. Exit on an island in the middle of the swamp and there is a Good Sam campground. Expensive to camp and lots of snakes but bathrooms are air conditioned!
Friday June 20
Hot. Bike down the island. It's a string of fish camps, hunt camps and basic weekend homes with river and swamp on all sides. People are very unfriendly. Back on I-10 and exit at Layfayette. Kind of not really a great town but downtown is cool and walk around for an hour or so, then have a killer breakfast in a diner; normal fare but done Cajun style. Head south to Abbeville
then hit the Louisiana coast. Remote. Thunderstorms all over. To Intracoastal City, which is a dead end launching point for off shore workers. More unfriendliness. Back along the edge of solid ground til I begin to run out of gas. To Lake Charles; get an oil change and see a bit of the town. I-10 again and soon it's Welcome to Texas! Welcome to Ugliness is more like it. Yikes! Crawl through Beaumont in traffic, take 610 to 59 and arrive home at 7 p.m. Trip over.