Since the sun does not rise here until after 8 a.m., it's pretty easy nowadays to do a dawn patrol. I took the day off from job hunting and hiked Stuart Peak.
Stuart Peak is a midlevel peak in the Rattlesnake Mountains National Recreation Area and Wilderness. The Rattlesnakes are a group of high peaks which back Missoula to the north. The entrance to the area is about 5 miles from downtown Missoula.
About a half-inch of sloppy snow dropped the night before in Missoula -- which translated to close to an inch at the trailhead, which is at about 3,500 feet.
The first 3 miles are wide and easy, then the climb begins in earnest.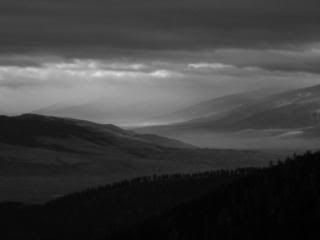 It's dense forest much of the way, though you do get some views.
The summit is at 7,900 feet but I turned around about 600 feet shy of that when I ran into deeper snow, dense fog, strong winds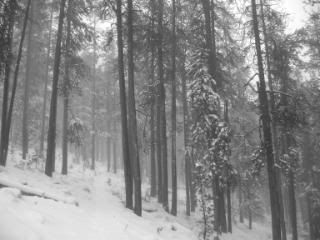 and big bear tracks.
I celebrated a successful hike with stickers!